Deepen your understanding of textiles and fiber arts through our Art Speaks lecture + discussion series!
Art Speaks

events feature

visiting Guest Teaching Artists, exhibiting artists, and invited textile scholars.
Events occur in person, online, and often in a hybrid format (online and in-person options). Tickets are typically offered on a sliding scale.
Art Speaks: African Blues – My Life in Indigo with Gasali Adeyemo

5 pm CT, Tuesday, June 13, 2023 • Hybrid – In person and virtual
Join Textile Center in welcoming artist Gasali Onireke Adeyemo to the Twin Cities for a special public lecture to accompany his 4-day workshop (sold out) on Adire resist dyeing with indigo.

In this hybrid in-person / online presentation, Gasali will tell the story of how fiber art came into his life. He will explain the three different techniques that he uses in his own work — adire eleko, batik, and tie-dye — and share the rich history of textile design and significance of indigo for the Yoruba culture.
In person participants will have the opportunity to shop Gasali's trunk show before and after the Art Speaks conversations.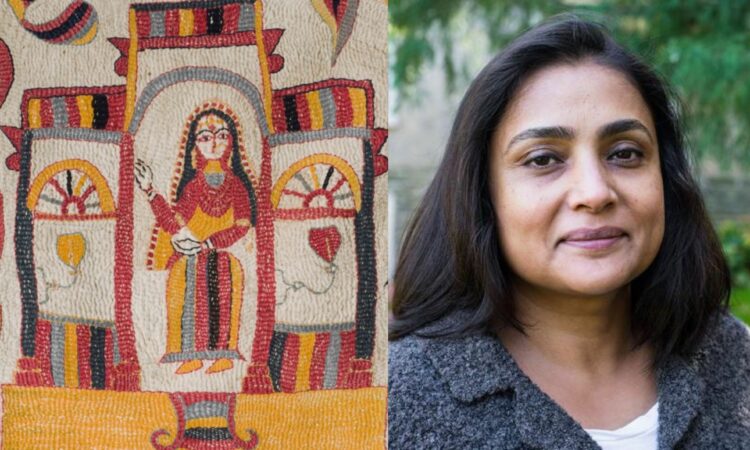 Art Speaks: "What is Kantha, Anyway?" with Pika Ghosh

12 pm CT, Friday, June 23, 2023 • Virtual, via Zoom
Join Textile Center in welcoming scholar Pika Ghosh for a talk on the rich history of kantha textiles and related themes from her latest book Making Kantha, Making Home (2020). 
Pika will discuss kantha, a corpus of Bengali textiles that traditionally have been understood as quilted cotton textiles created by women using repurposed white cloth from old and worn garments. To make kantha, women adorned these mended and smoothed surfaces with a wide range of distinctive patterns of running stitches. Some elaborate ones display figures and narratives, sometimes constructed from colored threads, pulled from the borders of old saris. They are associated with domesticity, thrift, virtue, and even Bengali nationalist resistance in the face of British colonialism. In this talk, Pika probes such perceptions to revisit to the fundamental question, what is a kantha, discussed in her book at greater length.