Come and celebrate 25 years of Textile Center excellence during a special summer of workshops to guide, inspire, and grow your creative practice!
Announcing our Guest Teaching Artist Workshops
Step up your textile game with our national and international Guest Teaching Artists — right here in Minnesota! These artist educators are highly regarded in the field of textiles and fiber for their artistic achievements and excellence as educators. Textile Center welcomes all creatives and wannabees to try something new or push the boundaries of what you already know by participating in an immersive experience with an expert in the field.
Click on any workshop title below for information and registration for that workshop. New additions to this incredible roster will be posted frequently, and first announced through our weekly Textile Tuesday E-newsletter. Email tkrumm@textilecentermn.org or call 612-436-0464 with questions.
Rena Wood
Join Rena Wood, winner of the Joanne Purrington Folley Memorial Award for Excellence in Needlework at Fiber Art International in 2016, for a week of stitching excellence! For students who have never touched a needle and thread or for more experienced embroiderers and stitchers looking for to expand their work, this workshop offers the time and space to get started and get down to it! Using hand-stitched lines as a way of drawing on fabric, explore how the process of stitching and the materials chosen give meaning to your work. Warm up with sketchbook and collage exercises, learn stitch techniques, experiment with new materials, and dive into different styles of hand embroidery as you develop a new vocabulary for your work.
Mon–Fri, June 10–14, 9:30 am–4:30 pm
$725 nonmember, $652 member
Ann B. Coddington
Learn a variety of basketry and fiber techniques from master Ann B. Coddington, Professor of Art and Graduate Coordinator at Eastern Illinois University, in this 5-day immersive workshop!
SOLD OUT!!  Call us at 612-436-0464 to be placed on the waiting list!
Mon – Fri, June 24 – 28, 9:30 am-4:30 pm. Click HERE to register.
$725 nonmember, $652 member
Abdul Jabbar Khatri
Welcome Guest Teaching Artist Abdul Jabbar Khatri from Kutch, Guajarat, India for a special BANDHANI workshop! The Bandhani of Kutch tradition is an ancient textile art known around the world for its unique texture, patterns, and finesse of dots. Bandhani are made by tying sections of fabric tightly with thread to create hundreds of tiny dots when dyed.  Using this thread resist with natural dyes from India on your own silk shawl, experience this process in a 2-day workshop with a master artisan!
Sat-Sun, June 29 & 30 , 9:30 am–4:30 pm

$380 nonmember, $342 member
Special ART SPEAKS presentation, trunk show and sale of Abdul Jabbar and Sufiyan's textiles:
Friday, June 28, 4-5 pm
Sufiyan Khatri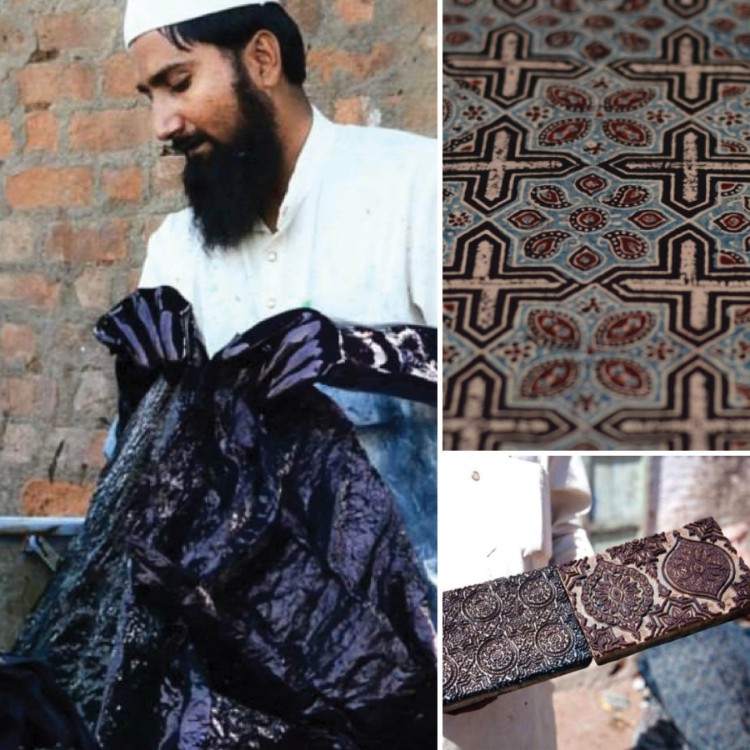 Join us for a special AJRAKH block printing workshop at Textile Center! Sufiyan Ismail Khatri, from Ajrakhpur, Gujarat, India, will be here to lead students through the steps in creating hand block printed textiles with natural dyes. From preparing the fabric, to applying the resist, to adding mordants to fix the dyes, to the final printing of colors, you will have a hands-on experience of every step of the process. Don't miss this opportunity to study this 4,000 year old textile tradition with a master artisan!
SOLD OUT!!  Call us at 612-436-0464 to be placed on the waiting list!
Mon–Tues, July 1 & 2,

9:30 am–4:30 pm

$380 nonmember, $342 member
Lynda Maynard
Textile Center is thrilled to welcome back couture fitting and sewing master Lynda Maynard for two more classes this summer! Join us for DRAPING A PERSONAL KNIT BLOCK and SLEEVE (a 2-day class) and FITTING PANTS (a 2-day class). The DRAPING class involves draping on the body with a heavy knit to create a well fitting pattern with a sleeve that fits. FITTING PANTS uses woven muslin and a preexisting pattern with a clean silhouette (of your choosing). Learn to make the correct alterations for different fabrics and body sizes for a perfect fit, and render a new paper pattern. In each class, patterns will revised, "proofed", and ready to cut in fabric! Lynda Maynard's passion for fashion has reached thousands through classes, publications, and online through Craftsy. Don't miss out on these must have classes for fashion and art-to-wear design and sewing enthusiasts!
Thur–Fri, Aug. 1 & 2, 9 am–5 pm
$430 nonmember, $387 member, Earlybird through June 28 – $360
Sat–Sun, Aug. 3 & 4, 9 am–5 pm
$430 nonmember, $387 member, Earlybird through June 28 – $360
Chungie Lee
Welcome Chunghie Lee, traveling from Korea to be with us for 5 days in a special BOJAGI workshop at Textile Center! Students will learn traditional bojagi techniques and work to create their own pieced and sewn garment or pieced fabric during this workshop. Chunghie Lee's approach to teaching Bojagi is to teach an appreciation of its history, usage, and its role in Korean society. Alongside the making, she encourages the application of the technique to modern interpretation. A special exhibition curated by Lee, featuring a Korean Bojagi master, will travel to Textile Center to help celebrate our 25th Anniversary summer and this special class.
Wed–Sun, Aug. 21–25, 9:30 am–4:30 pm

$725 nonmember, $652 member, Earlybird through July 12 – $625
Kenneth King
Coming in Fall 2019, November 2-6. Details to come!
For our out of town guests, we have lodging and accommodations available right down the street, and the Minneapolis/Saint Paul International Airport just a 15-20 minute drive away, or at the Prospect Park light rail stop (no car necessary)!

Our official hotel sponsor, the new Hampton Inn & Suites by Hilton is just one block from Textile Center at 2812 University Ave SE, and offers a preferred nightly rate of 10% off the room rate for Textile Center patrons (any room). This rate includes wifi, free hot breakfast, nightly parking, fitness center, and shuttle to and from Textile Center. To receive this rate, please call the hotel's front desk directly at 612-259-8797, and ask for the Textile Center rate. (Instructions from hotel: when calling, don't press 1 for reservations. Allow your call to be transferred to front desk. Let the attendant know you are calling for the Textile Center rate.)