Join us with a commitment to renew, inspire, and grow your creative practice with a Guest Teaching Artist Class!
These 2 – 5 day classes are just the ticket to introduce new ideas, build on old ones, and learn new fiber art skills in a supportive and rigorous learning environment!
We are beginning to schedule these special classes for 2022–so keep an eye on this page and our Textiles on the Town newsletter for announcements!
CORONA VIRUS UPDATE!

At this time, Textile Center is offering limited in-person classes and we are working on growing our schedule back to full capacity in the next six months. All updates to these special intensive programs will be communicated here, as we are closely following guidelines from the Centers for Disease Control and Prevention and recommendations from the Minnesota Department of Health.  Future program plans will be announced on this page and in our Textiles on the Town newsletter as soon as it is safe to convene these immersive experiences again!
Step up your textile game with our national and international Guest Teaching Artists — right here in MN!
These artist educators are highly regarded in the field of textiles and fiber for their artistic achievements and excellence as educators. Textile Center welcomes all creatives and wannabees to try something new or push the boundaries of what you already know by participating in an immersive experience with an expert in the field.
Click on any workshop title below for information and registration for that workshop. New additions to this incredible roster will be posted frequently, and first announced through our weekly Textile Tuesday and our bi-weekly Textiles on the Town E-newsletters. Sign up at the bottom of the homepage of our website or call us at 612-436-0464.
CLASSES COMING IN 2022
No dates yet due to COVID-19. Keep checking back and watch our newsletter for announcements and updates!
Jane Dunnewold
Personal Archetypes as Artistic Inspiration
5 days •  9:30 am – 4:30 pm, daily
Don't miss this opportunity to engage in a week-long workshop designed to inspire your artistic genius! Understanding the symbolic nature of archetypes, and working with them as inspiration for art work, is at the heart of this workshop. Archetypes are a sort of shorthand for the many recognizable qualities human beings share. The fun begins when we, as artists, study our personal archetypes intending to use them as inspiration or tools for making art. Anyone who has perfected a few skill sets in any medium, but is interested in mining for meaning will benefit from this workshop, no matter your experience level.
Mo Kelman
Skins, Skeletons, Nets, and Knots: 3D Textiles
5 days •  9:30 am – 4:30 pm, daily
Susan 

Stover
Interplay: Combining Textiles and Encaustic
5 days •  9:30 am – 4:30 pm, daily
Whether you are an artist working with textiles and wanting to experiment with encaustic or an artist working with encaustic and wanting to experiment with textiles, this class will investigate the possibilities of combining the two. Longtime textile innovator Susan Stover will take you through all of it–from the physical properties of textiles and wax, to ways they can be manipulated and colored, how and how they can be used for 2-d and 3-d work. Various surface design techniques on fabric, such as batik, silk painting, and shibori, along with surface application to crochet, stitching, plaiting, and coiling will be included.
Susan Moss
The Sketchbook Habit
3 days • 9:30 am – 4:30 pm, daily
An active sketchbook and journaling practice can enhance creative process and artistic growth. The sketchbook can be a tool to investigate what is unique about your way of seeing, responding, marking, and recording experience. Susan Moss–who has been marking on surfaces since a child and has extensive experience teaching all levels of drawing, contemporary textiles, and seminars focused on developing and articulating visual ideas–joins us for this special workshop to help foster a sketchbook practice that is low risk, non-evaluative, and exploratory.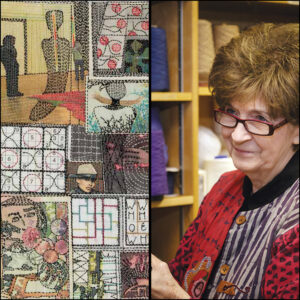 Mary Ruth Smith
Boro Influences on Contemporary Fiber Art
5 days •  9:30 am – 4:30 pm, daily
Pat Pauly
Surface Design- Glorious Prints!
5 days •  9:30 am – 4:30 pm, daily
For our out of town guests, we have lodging and accommodations available right down the street, and the Minneapolis/Saint Paul International Airport just a 15-20 minute drive away, or at the Prospect Park light rail stop (no car necessary)!
Our official hotel sponsor, the new Hampton Inn & Suites by Hilton is just one block from Textile Center at 2812 University Ave SE, and offers a preferred nightly rate of 10% off the room rate for Textile Center patrons (any room). This rate includes wifi, free hot breakfast, nightly parking, fitness center, and shuttle to and from Textile Center. To receive this rate, please call the hotel's front desk directly at 612-259-8797, and ask for the Textile Center rate. (Instructions from hotel: when calling, don't press 1 for reservations. Allow your call to be transferred to front desk. Let the attendant know you are calling for the Textile Center rate.)