Kick off 2020 with a commitment to inspire and grow your creative practice with a Guest Teaching Artist Class!
These 1 – 5 day classes are just the ticket to introduce new ideas, build on old ones, and learn new fiber art skills in a supportive and rigorous learning environment!
Announcing our Guest Teaching Artist Workshops for 2020
Step up your textile game with our national and international Guest Teaching Artists — right here in Minnesota! These artist educators are highly regarded in the field of textiles and fiber for their artistic achievements and excellence as educators. Textile Center welcomes all creatives and wannabees to try something new or push the boundaries of what you already know by participating in an immersive experience with an expert in the field.
Click on any workshop title below for information and registration for that workshop. New additions to this incredible roster will be posted frequently, and first announced through our weekly Textile Tuesday E-newsletter. Sign up at the bottom of the homepage of our website or call us at 612-436-0464 with questions.
Save the Dates for these Guest Teaching Artists, Coming in 2020:
Karen Morris
1 day • Saturday, March 14, 9:30 am – 4:30 pm
After February 13: $160 Nonmember, $144 Member (10% discount)
Explore the techniques involved in creating feather flowers, customized to the needs of designer hats, with a millinery master! Learn how to treat, paint, cut and trim feathers to give them the necessary shapes for the perfect flower. Finish the workshop with your own customized hat! No experience necessary.
2 days • March 21 and 22, 9:30 am – 4 pm on Saturday,
and 9:30 am – 1 pm on Sunday
EARLYBIRD PRICE through February 28: $215
After February 20: $250 Nonmember, $225 Member (10% discount)
Build your millinery skill with a master millinery instructor! This special workshop will help you develop your fabric manipulation and structure building skills, while developing an understanding of design, proportion, balance and color as you make a sophisticated cocktail hat.
Purchase both of Karen's classes together & save! Use coupon code "TAKEBOTH" at checkout, with both classes in your cart.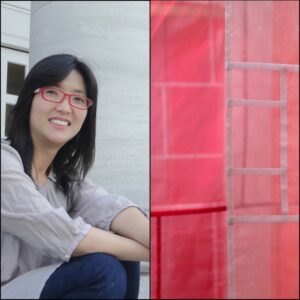 Eun-Kyung Suh
3 days • Friday – Sunday, March 13 – 15, 9:30 am – 4:30 pm, daily
EARLYBIRD PRICE through Thursday, February 13: $375
After February 13: $425 Nonmember, $382 Member (10% discount)
Join us for a special 3-day weekend to explore an innovative approach to using the basic techniques and aesthetic styles of Bojagi. Bojagi are traditional Korean wrapping cloths used to cover, store or carry everything from precious ritual objects to common household items. Learn sewing, wrapping and folding processes using the inherent structure of fabric to transform 2-D fabrics into 3-D enclosed forms, and explore the possibilities of sculptural vessels. Using Korean hemp, organza, and repurposed discarded cloth scraps, you will reconfigure and reconstruct geometric patterns in cloth, and experiment with transferring images and text onto fabric to convey personal narratives in your work.
Akemi Cohn–SOLD OUT!
4 days • Saturday – Tuesday, April 25 – 28, 9:30 am – 4:30 pm
EARLYBIRD PRICE through Wednesday, March 25: $515
After March 25: $580 Nonmember, $522 Member (10% discount)
Join us for a special 4-day intensive in learning the traditional process of this Japanese resist paste technique, using indigo. Stencil cutting, making rice paste with traditional recipes (special bran & sweet rice flour), printing, and making an indigo vat for use with resist pastes will be covered. By learning to use and apply Sumi ink (black ink for calligraphy), fabrics will achieve greater depth and variations with indigo blues. Return home with a collection of experimental fabric pieces and the skills and ability to continue the process at home or in the studio!
Jane Dunnewold
5 days •  Monday – Friday, May 4 – 8, 9:30 am – 4:30 pm
EARLYBIRD PRICE through Friday, April 3: $760
After April 3: $875 Nonmember, $787 Member (10% discount)
Don't miss this opportunity to engage in a week-long workshop designed to inspire your artistic genius! Understanding the symbolic nature of archetypes, and working with them as inspiration for art work, is at the heart of this workshop. Archetypes are a sort of shorthand for the many recognizable qualities human beings share. The fun begins when we, as artists, study our personal archetypes intending to use them as inspiration or tools for making art. Anyone who has perfected a few skill sets in any medium, but is interested in mining for meaning will benefit from this workshop, no matter your experience level.
Susan Stover
Intro to Encaustics for Textile Artists
5 days •  June 1 – 5, 9:30 am – 4:30 pm, daily
Susan Moss
The Sketchbook Habit
3 days • June 12 – 14, 9:30 am – 4:30 pm, daily
Mary Ruth Smith
Boro Influences on Contemporary Fiber Art
5 days •  July 27 – 31, 9:30 am – 4:30 pm, daily
Pat Pauly
Surface Design- Glorious Prints!
4 days • September 27 – September 30, 9:30 am – 4:30 pm, daily
Please check back after March 1, 2020 for registration information for June – October classes.
For our out of town guests, we have lodging and accommodations available right down the street, and the Minneapolis/Saint Paul International Airport just a 15-20 minute drive away, or at the Prospect Park light rail stop (no car necessary)!

Our official hotel sponsor, the new Hampton Inn & Suites by Hilton is just one block from Textile Center at 2812 University Ave SE, and offers a preferred nightly rate of 10% off the room rate for Textile Center patrons (any room). This rate includes wifi, free hot breakfast, nightly parking, fitness center, and shuttle to and from Textile Center. To receive this rate, please call the hotel's front desk directly at 612-259-8797, and ask for the Textile Center rate. (Instructions from hotel: when calling, don't press 1 for reservations. Allow your call to be transferred to front desk. Let the attendant know you are calling for the Textile Center rate.)