"For artists, this unexpected time can be viewed as an artist residency, a time without (many) external demands, to focus on creative studio work. I'm certainly thinking about it that way and feel fortunate that I am clear about work I can do at home and in the studio."

— Pat Hickman, member of Textile Center's National Artist Advisory Council
Welcome to Show & Tell, our virtual initiative to bring our fiber art community together to share ideas. Whether its through our creative work in our homes or in our studios, let's spread inspiration during this time of social distancing!
Do you have a fiber art project, idea, or challenge to share? We invite you to Show & Tell. Share your work on Instagram, Facebook, or Twitter with the hashtag #TCshowandtell or send an email with your photos and brief description to Communications Manager Mia Finnamore at mfinnamore@textilecentermn.org.
Community Member Spotlight
#TCshowandtell Submissions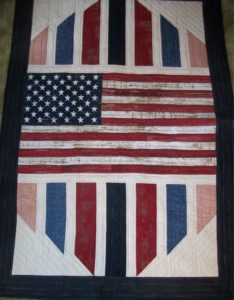 Yvonne Cory • "Our Main Street Sewing society, that I am a member of, has a service project of making Quilts of Valor for the veterans of Faribault county.  Our goal is for every veteran some day to all receive a quilt made by our society.  This picture is of this year's design, made on the sewing machine. I like to do at least one quilt each year on the treadle for something special for who ever gets the quilt.  On the back label, all the information is given about how the quilt was made and when. As I reflect about this year with the virus, it even has more meaning."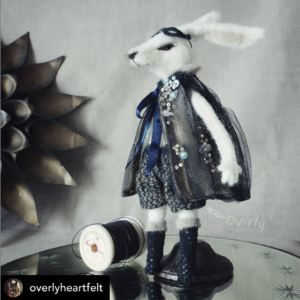 @overlyheartfelt • "One more (photo) to show the balloon shorts! I'm a bit obsessed. Black and gold tulle cape with iridescent beading. Wool shorts and fishnet leggings. Leather masquerade mask."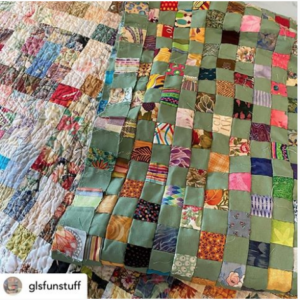 @glsfunstuff • "This work (penny quilt with green squares) has been in progress for 15 years and was inspired by a charm quilt hand pieced and hand quilted by my mother. My love of arts and crafts comes from her. For as long as I can remember she always had a project(s) in progress. Tuesday Apr 1 was the 3rd anniversary of her passing. I miss being able to share ideas and finished projects with her."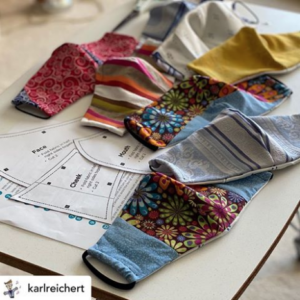 @karlreichert • "I made 8 face masks yesterday, and I'm pleased to report that my sewing machine and I are getting along. We had a few issues (mostly my incompetence) to overcome!"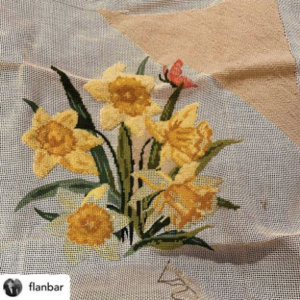 @flanbar • "Years ago, I bought this half finished needlepoint piece at the @textilecentermn Garage Sale. Today I pulled it out and started to work on it."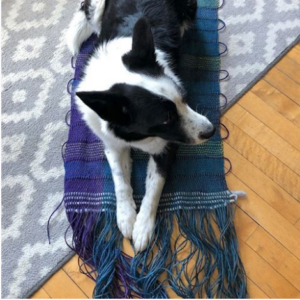 @sarah.rusch • "Over the weekend (what is weekend??) I finally made my sister a runner for her coffee table. It felt nice to find some solace, away from the screens, just for a little bit."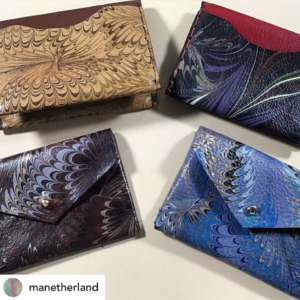 @manetherland • "What are you doing during this time of social distancing? Since I took a leather work class at Textile Center last year, I've been trying to use some of my marbled leather to make minimalist wallets and clean my art room with little success since I get distracted by the projects I haven't finished. ?"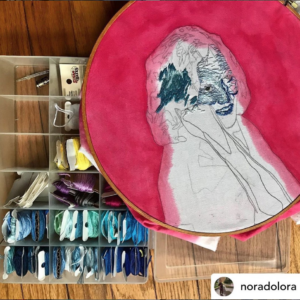 @noradolora • "Began a portrait of my mom at the beginning of March, and choosing each color to use next or where to put stitches has been as difficult as finding new words to describe to grief I still carry. Like this quarantine, I'm giving myself grace to take a slower time embroidering her. And in my quieter moments, my mom continues to reveal lessons and truths through my love for her."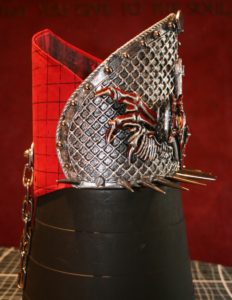 Tom Skogstrom • "My first 'quarantine' project is a stage performance costume 'helmet' for heavy-metal rock singer Caster Volor. The challenge was to make a piece that looks like metal, but is light and durable and balanced enough to stay on his head through a wild and sweaty stage performance. The pattern is an original design. It's custom-fitted to Volor's head size, and is made of rigid polyester felt, cotton quilting fabrics, cotton twill canvas, string mesh, silk cording, and book board."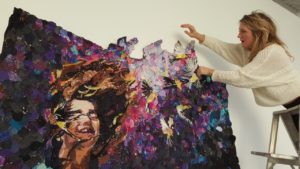 Blair Treuer • "My work is an exploration into the role Ojibwe traditional cultural practices and beliefs plays in shaping the way my family sees itself collectively, the role it takes in shaping the personal identities of my husband and my nine children, and the influences or effect it's had on my own personal identity."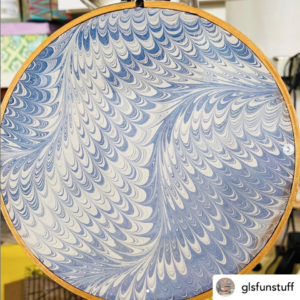 @glsfunstuff • "Putting my marbling output to use making cards and "framing" a piece of silk for my textile art gallery wall."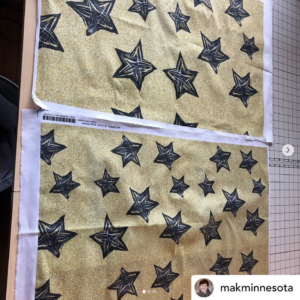 @lorriwt • "Thanks to the inspiration of @badasscrossstitch and her #ritasquilt project, I finally finished the embroidered pillowcase set that my grandmother was working on when she passed away more than 30 years ago. I dug it out of storage after reading about their story. Grandma completed the top case, and I did the bottom case and crochet edging according to the directions that were left with the kit. I'm going to surprise my mother on her birthday this week with an intergenerational gift of ??"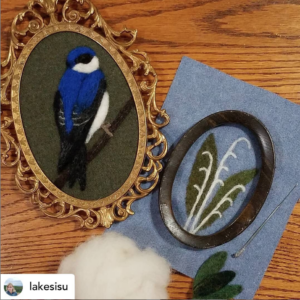 @lakesisu • "Sharing my creative time with two active kids is complicated, but I have promised myself to keep getting the ideas out of my head to stay sane. To hone my skills, I have been working on filling vintage frames with images that just feel like they just belong. Something a bit different than my box dioramas. These frames are from @shop501andcompany, and the white wool from a small farm just west of the Twin Cities."
@lorriwt • "Social distancing allowed me to FINALLY finish my 2019 temperature scarf. I'd been procrastinating adding the fringe, but some alone time was the perfect opportunity. Check out the side-by-side comparison between 2014 (l) and 2019 (r)."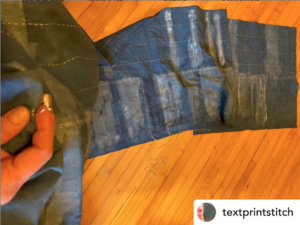 @textprintstitch • "Day 3 of stitching. One of three panels exploring the elements of conversation. This ones about the nugget of gold in each stream of words."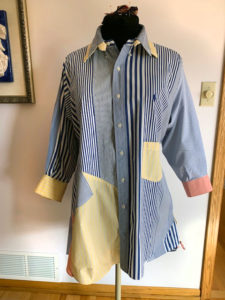 Marsha Theis • "The Wearable Arts group (WAM) at Textile Center decided to do a sewing challenge. Our challenge was to take something you already own, and don't wear, and transform it into something you will wear — or to get a used garment and transform it into something you will wear. I went to the Goodwill and bought four used men's shirts for $4.50 each and made them into a dress."
@overlyheartfelt • "Sitting on the dock with his morning coffee and watching the steamboats go by. Inspired by my Nola hubby, this is my take on a southern gent mallard. The perfectly weathered base is an architecture salvage from @artandarchitecturempls I knew it'd come in handy one day!"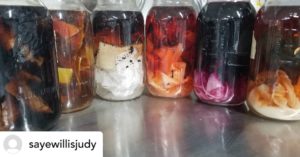 @sayewillisjudy • "Starting a project for the long hours of quiet time in my studio. This is a test to find out what dyes will work with fermentation. I started it on 3-18 and it should be done by the time we are done with social separation. I plan to use the test fibers to make an collage or will let them speak."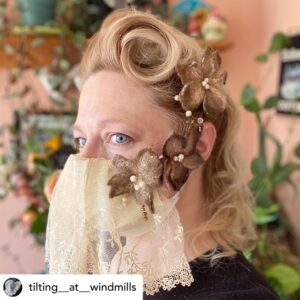 @tilting__at__windmills • "I was talking with some friends about a way to make things a little less scary by using our skills to take a symbol of fear and illness and turn it into something beautiful or whimsical that might give others a feeling of safety, connectedness, and hope. Will you join us and use your maker skills to design mask covers that would be less intimidating? Read more here. #makehope "
Linda McShannock • "I'm using up collected fat quarters to make potholders. This is a design shared by Textile Center member Charlotte Cronin, who shared it with us on Textile Center's Morocco trip and again when I was able to visit her recently. It's been a good project for engaging granddaughters in design and stitching."