Pat Hickman, Member of Textile Center's National Artist Advisory Council
Last summer, horrified by the news from the U.S.-Mexican border about walls and children being separated from their families, Pat Hickman began to do what artists do when they are troubled. She turned to her work, beginning to net, not knowing where the project would go or even what it would mean. Her material was metaphorical: a functional fishnet intended to gather food transformed into a barbed wire fence intended to keep things out. Pat worked with strips of old Japanese fishing nets, which she had purchased from habutextiles.com. When the fishing nets were cut apart, what remained were long lines of thread, short pieces sticking out from each knot, like the barbs on barbed wire. Pat began to net these strands into new nets.
Pat was in Washington State in early March, teaching a workshop, when news of the coronavirus first came to our attention. Meeting with a Japanese-American friend and colleague, Jan Hopkins, they spoke of the Internment Camps during World War II. Jan had recently exhibited her Japanese Internment Art series, based on her own family members' experiences before, during and after the mass incarceration. Returning home, Pat began to read poetry from the camps.
Suddenly her nets became more urgent to make and took on more complicated meanings. What started out as a cry against trying to keep people out became a statement of the futility of trying to keep a virus out. "These things are driving my work," Pat said. "I have to respond to this horrible moment we are all now experiencing."
In addition to re-netting the few balls she has of Japanese fishing nets, Pat is cutting up black plastic deer fence nets, lines left on either side of a knot, simulating barbs. "When I cut these nets apart, they too, look like barbed wire."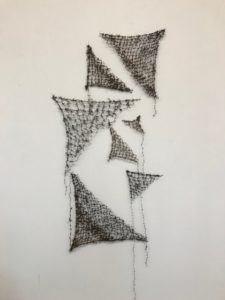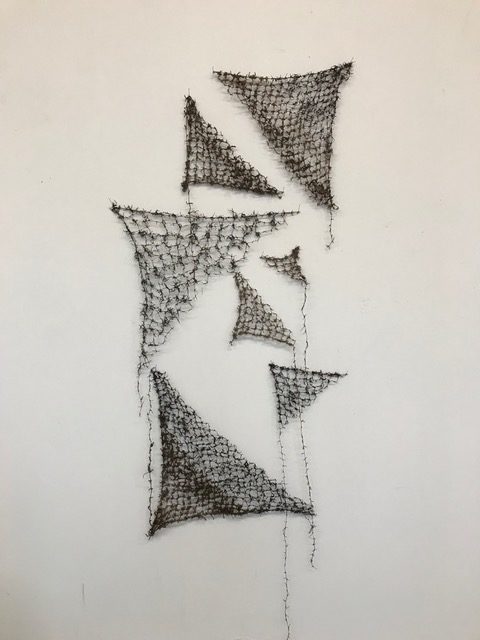 A member of the Textile Center's National Artist Advisory Council, Pat is Professor Emerita of the Art Department, University of Hawaii, where she taught for sixteen years. Her studio is now at the Garnerville Arts and Industrial Center, NY and she lives nearby in the Lower Hudson River Valley.
Pat spent time near Seattle, an early hotspot of the pandemic. Coming home she read Poets Behind Barbed Wire, an anthology of poems written by people of Japanese ancestry, 70,000 of them American-born citizens. Being forced to shelter in place, listening to COVID-19 being called the "Chinese virus" and watching Chinese Americans being attacked and stigmatized – all these things are spilling into Pat's work. When she began, Pat called this piece "Wall." By the time she finishes, it will need a new name.
Interview by Karl Reichert, text by Gail Hovey