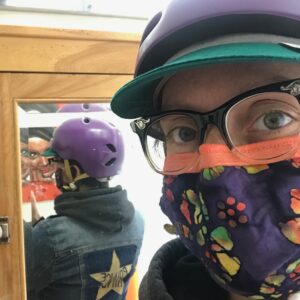 Erin Lavelle, Jerome Fiber Art Project Grant Recipient, 2019/20
For Erin Lavelle, a Jerome Fiber Art Project Grant Recipient for 2019/20, this pandemic has impacted her work in many ways — from re-evaluating, adjusting, to finding new meaning in current projects. 
 "I am reconsidering what it means to be a public artist in the time of a public health crisis, both conceptually and in practice," she says. "I had been working on a project on the theme of 'impermanence' in the public libraries since November, creating an ever-evolving garment in direct exchange with community members. Now that I am working on it in my home, I have reached out virtually and have conducted video sewing sessions where we all work with our hands on our own projects, and I lead conversations on the topic of change." She adds, "I have also worked on this project while listening to the ever-evolving news as the pandemic unfolds. While the format has radically changed, the theme has been strengthened in this time." 
To continue staying inspired during this time as a public artist, Erin has focused on meditation and mindfulness. "As our daily lives have shifted, I have been working with the phrase 'still life.' Still life = a portrait of inanimate objects; Still life = a slow, calm, mindful way of living; Still, life = crisis is upon us, and we must continue to survive. Resilience." Erin has found a way to bring this into both current works in progress, as well as to inspire collaborative projects with other artists in her neighborhood. "Conversation with others is always very inspiring to me." 
Erin has also devoted some of her time to the mask-making effort, to help support healthcare workers, as well as staff at Eureka Recycling. "Their staff members are critical in the sanitation and safety of citizens, and they had been working without PPE." 
In addition, she has been sorting her ever-growing collection of buttons. "Some of you may remember my button dress from a few years back, which had nearly 4,000 buttons sewn to it." This piece, 'Doing' Dress, was featured in our A Common Thread member exhibition in 2017 (see picture below). 
When thinking about what she has learned so far during this time of social distancing, and what she will carry with her into the future, Erin shares, "I have learned to be nimble and embrace change on a much deeper level through the intersection of the pandemic and my impermanence project. I have become more gentle with myself in regard to expectations and productivity. I hope that I will carry with me a more embodied practice that offers flexibility to be carried instead of feeling pressure to always be its carrier." 
She adds: "Also, I've basically turned my house into a studio. There are materials and projects-in-progress everywhere! Except for my living room, which is serving as my yoga/meditation studio, so I keep it clear to leave space for mental and physical activity. I don't know why it took a pandemic for me to rearrange in this way!"  
When this pandemic passes, Erin is looking forward to, "Revolution! Social change! New policies that promote equity and care for the most vulnerable members of our community! Also, I cannot wait to share hugs, dance floors, and coffee dates."