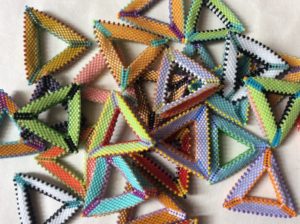 Textile Center is pleased to announce the recipients of the 2019/20 Jerome Project Grants for Emerging Fiber Artists.
The culminating exhibition of this grantee cohort was on view at Textile Center through August 2020!  Check out the virtual exhibition HERE!
After a review process involving three professionals engaged with the field of fiber art, the jurors selected the winning artists – Ian Hanesworth and Erin Lavelle, both from Minneapolis, and Dawn Tomlinson from Eagan. During the selection process, these artists' proposals were described as "clearly articulated with goals that would advance the artists' emerging careers as well as draw attention to current creative trends involving identity, community engagement, and sustainability on behalf of Textile Center's mission," said Tracy Krumm, Director for Artistic Advancement.
Hanesworth intends to produce work that builds off research into deep ecology, kincentrism, and systems of reciprocity. They will work toward establishing a carbon-neutral, land-based practice, sourcing plant fibers from the environment and processing these materials using techniques that resonate closely with their conceptual concerns. Check out Hanesworth's article, The Long Practice of Cumulative Attentiveness, on Mn Artists website.
Lavelle is planning a participatory opportunity for connection and discovery using social experience, fiber arts, and the practice of mindfulness to connect people and environment. Using concepts of breath and impermanence, she proposes to make a "living" installation using a grand, altered, embellished garment that evolves throughout a continuous doing-undoing-redoing cycle.
Tomlinson will work to develop a hybrid process combining geometric and freeform styles of beadwork as she moves the focus of her work from her own Korean adoptee identity to work that investigates the life of her birth mother. Research into the Camptown women of Korea and developing a storytelling component will inform and complement her project.
Three jurors, all of whom are textile arts professionals, lent their expertise and time to review the 43 completed proposals. Ilse Aviks has been a practicing fiber artist for over 40 years and is known for her stitched works, essays and reviews about textiles, and teaching at Fort Lewis College in Durango, CO and workshops across the nation. Teresa Paschke is a Professor of Art and Visual Culture at Iowa State University in Ames, IA, whose artwork and research have been recognized with numerous grants, fellowships, and exhibitions. Her current scholarship examines the impact of global perspectives on diverse urban landscapes. Cecilia Ramón is an artist/educator who currently teaches courses in art and cultural diversity, and multicultural art perspectives at the University of Minnesota- Duluth. A native of Argentina, Ramón's sculptural and installation works have been exhibited internationally and she has received numerous grants and awards, including a Jerome Mentorship in 2006 and a Fellowship in 2010.

Top image, from left: Ian Hanesworth, Dawn Tomlinson, Erin Lavelle
2019-2020 Jerome Recipients
Ian Hanesworth
Dawn Tomlinson
Erin Lavelle
2018-2019 Jerome Recipients
Janet Dixon
Heather MacKenzie
Mary Pow
2016-2017 Jerome Recipients
Elizabeth Garvey
Julie Hassler
Kristin Hoelscher-Schacker
Catherine Missaghi
2016-2017 Exhibition: Loop • Skin • Rust • Mind
2015-2016 Jerome Recipients
Marcia Haffmans
Sarah Nassif

Alex Newby
Maggie Thompson
2014/2015 Jerome Recipients
Sarah Kusa
Becka Rahn
Jennifer Schultz
Kate Vinson
2014 Jerome Recipients
Susan Hensel
Kristi Kuder
Allison Roberts
Julie Sirek
2012/2013 Jerome Recipients
Moira Bateman
Marjorie Fedyszyn
Chiaki O'Brien
Caroline Keefe
2011/2012 Jerome Recipients
Gay Kemmis
Lisa Loudon
Mary Mortenson
Kimber Olson
2010/2011 Jerome Recipients
Kristina Fjellman
Anne Larson
Brenda Brousseau
Kim Matthews
2009/2010 Jerome Recipients
Allison Roberts
Lyz Wendland
Kevin Kramp
2008/2009 Jerome Recipients
Maggie Dayton
Heidi Henderson
Ingrid Restemayer