Textile Center and Women Chefs & Restaurateurs present a collaborative exhibition: Artists in the Kitchen
50 works of art by women artists inspired by 50 women chefs & restaurateurs
March 21 – May 19, 2018
Public Reception: Thursday, March 29, 5:30 – 7 pm
Being on a team for Artists in the Kitchen is to begin to understand how an artist actually works, to be part of that process. I'm beginning to think of it as walking into a room you've never been in before, yet it's totally familiar in so many ways and not in others. That's because it's partially about your own work and then discovering the visions and processes of the other person there, the artist." —Lynne Rossetto Kasper
Beginning December 27, 2017, 50 all-women artist/chef-restaurateur teams met to join forces in an innovative partnership whereby chefs are inspiring the artists to produce new artworks, culminating in the exhibition. ]To honor the mission of Textile Center, each of the artists is incorporating a textile process, material, or sensibility in their completed work. Recognizing the abundance of local culinary and visual art talent of Twin Cities-area women, "this invitational exhibition forges a new partnership that celebrates the work of women artists in both the art studio and culinary worlds."— Artists in the Kitchen Organizers.
Artists in the Kitchen premieres in conjunction with the 25th anniversary of Women Chefs & Restaurateurs (WCR) national conference, Women Speak: Curating the Future of Food from April 21-23.
Co-presented by: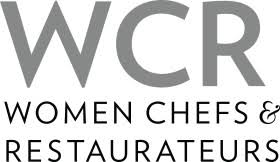 Chef/Restauranteur - Artist Teams
Jessica Cak of Barbette with artist Sarah Stengle
Alicia Hinze of The Buttered Tin with artist Amy Rice
Tracy Singleton of Birchwood Café with artist Ruthann Godollei
Anne Rucker of Bogart's Doughnut Co with artist Alanna Stapleton
Laura Bonicelli of Bonicelli Kitchen with artist Kelly Marshall
Hanna Yemesrach Benti of Brava Truck with artist Cathy Missaghi
Lachelle Cunningham of Breaking Bread with artist Tina Hughes
Beth Jones of the Campus Club of the University of Minnesota with artist Joni Van Bockel
Lisa Carlson and Carrie Summer of Chef Shack with artist Caitlin Karolczak
Mary Leonard of Chocolate Celeste with artist Karen Searle
Amy Brown and Heidi Andermack of Chowgirls Catering with artist Maggie Thompson
Dulce Monterrubio of Dulceria Bakery with artist Sharon Day
Kelly McManus of Dumpling & Strand with artist Sophia Heymans
Golnaz Yamoutpour of Eat.Drink.Dish with artist Susan Leschke
Erica Strait of Foxy Falafel with artist Farida Hughes
Beth Fisher of French Meadow Bakery and Cafe with artist Ann Ribbens
Arwyn Birch and Teresa Fox of Glamdoll Donuts with artist Jennifer Davis
Ky and Mel Guse of Gyst Fermentation Bar with artist Vatina McLaurin
Kelly Olsen of Han's Bakery with artist Jane Bassuk
Aleks Till of Homegrown Foods with artist Lindsay Rhyner
Tasya Kelen of Isadore Nut Company with artist Marlena Myles
Susan Liesch of Jetset Bar with artist Gail Katz James
Molly Herrmann of Kitchen in the Market-Midtown Global Market with artist Camille Gage
Jenny Breen of Mill City Farmers Market with artist Rachel Breen
Susan Muskat of Moose & Sadie's Neighborhood Café with artist Marcia Haffmans
Koshiki Yonemura of Tanpopo Noodle Shop with artist Elizabeth Garvey
Barb Zapzalka of Pumphouse Creamery with artist Asia Ward
Nettie Colon, of Red Hen Gastrolab with artist Beth Barron
Katie Myhre of RED Market with artist Kristin Hoelscher-Schacker
Jenny Ellenbecker of Round Lake Wineyards with artist Karen Gustafson
Michelle Gayer of Salty Tart Bakery with artist Anna Carlson
Jodi Ohlsen Read of Shepherd's Way Farms with artist Maddy Bartsch
Lynne Rossetto Kasper of The Splendid Table with artist Carolyn Halliday
Diane Yang of Spoon and Stable with artist Teresa Paschke
Brenda Langton of Spoonriver Restaurant with artist Shelly Mosman
Liz Brockie of Spoonriver Restaurant with artist Celina Kane
Solveig Tofte of Sun Street Breads bakery with artist Cassie Kunshier
Ashlee Olds of Sweet Science Ice Cream with artist Robbie LaFleur
Robyn Frank of Thumbs Cookies with artist Nancy Condon
Tamra Kramer of VomFASS with artist Mary Logue
Ann Kim of Young Joni with artists Tracy Krumm, Carolyn Halliday, Kelly Nezworski and Ellie Gagner
Kim Bartmann, WCR President and restaurateur, with artist Tracy Krumm
Mecca Bos-Williams, Food Writer with artist Carmen Gutiérrez Bolger
Beth Dooley, Food Writer and Food Tour Guide with artist Kimber Olson
Kara Doucette, Yelp Community Manager, with artist Erin Lavelle
Stephanie Hansen, Food blogger & radio show host, with artist Marjorie Fedyszyn
Nalini Mehta, Food Consultant with artist Sandra Brick
Jametta Raspberry, Personal Chef, with artist Anne Kramer
Elizabeth Falkner, Culinary Instigator – video installation
Pictured from left:
Chefs Carrie Summer and Lisa Carlson of Chef Shack (Tom Wallace, Star Tribune). "The most surprising part of working with our artist was the similarities in the brainstorming, highly creative, and intuitive process. Also, the challenges in both industries as women coming forward into leadership roles. Being on this team has been a mind-bending experience—colorful, and thought-provoking, and we are struck by the sheer strength, boldness and power of a woman artist." –Lisa Carlson
Weaving in process by artist Cassie Kunshier. "Here is a sneak peek at the piece I'm creating in partnership with Solveig Tofte from Sun Street Breads. It's inspired by the amazing flavors and ingredients Solveig uses in her bakery."—Cassie Kunshier
Chef Nettie Colon of Red Hen Gastropub, paired with artist Beth Barron.
Felting in process by artist Kimber Olson, paired with Beth Dooley, Food Writer and Tour Guide.