Youth Fiber Art Guild™
Welcome to the Youth Fiber Art Guild™, where anyone ages 9 and up can explore their creativity through kit-based fiber art projects!
By following our simple instructions or online video tutorials at home, feed your creativity, show off your talents, and build new skills with confidence!
Bundle of 4 different fiber art kits
Looking for something to keep your child engaged and inspired over summer break? In this special limited edition collection of Youth Fiber Art Guild kits, participants get a bundled selection of four kits in the mail –  packed with tools and materials to make their own unique fiber art projects!
Bundle of 4 matching fiber art kits
The Fiber Art Friend Pack contains four matching kits of your choice: perfect for creating with others! Simply choose your desired project and you will receive 4 individually packaged kits to share with your friends or do with your family! Follow simple instructions included in the packs, or let the online video tutorials be your guide.
The Fiber Art Friend Pack is perfect for a springtime picnic, birthday party, family night, and more!
6-Month Membership Subscription
6 months of shipped kits, plus 2 free bonus kits
Please note: Registration is currently closed. Please check back in November 2022 for the 2023 subscription!
Every month, each Guild member receives an exciting new kit packed with tools and materials to make a unique fiber art project! By following our simple instructions or online videos at home, your child will be amazed at their own talent and confidence!
A membership includes 8 kits sent over the course of 6 months (3 kits the first month, one additional kit each month thereafter), with materials, instructions, online demos and more. The cost includes sales tax and shipping on all kits. Invite a friend to join and make your own guild!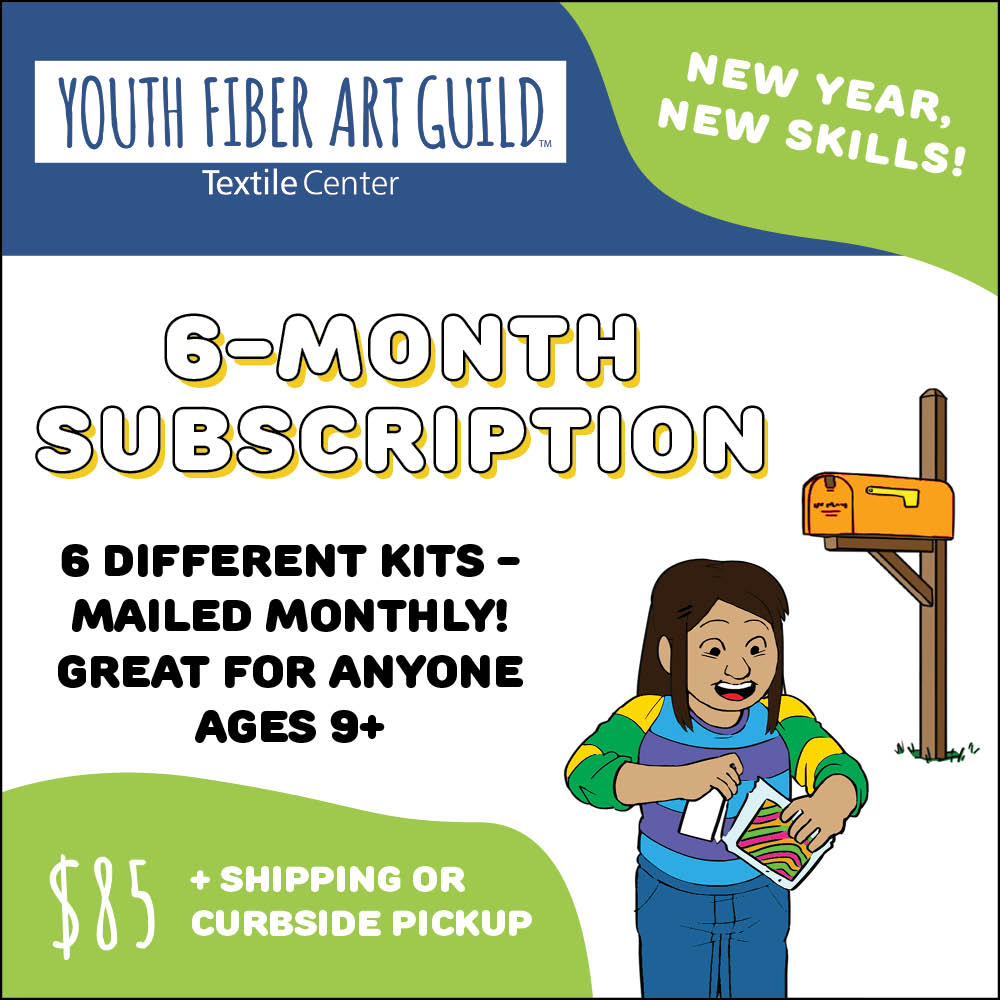 Online Instructions & Tutorials
Each video link below will take you to the corresponding video tutorial for one of the eight (8) projects included in the 2022 Youth Fiber Art Guild™ subscription. (Project names have changed overtime, so video titles may not exactly match your project title.)
What is a Guild?
A guild is similar to a club. Long ago, guilds were groups of people who practiced a trade (like metalworking) and they would keep the methods of their work, top secret. (Up to 1,000 years ago!) Today guilds get together to learn about a common interest, make friends, share projects, and enjoy the love of their craft!
Why start a Guild?
The Youth Fiber Art Guild™ offers a unique way of learning through hands on projects. Our guild format allows youth to develop leadership and teamwork skills while they grow confidence in their own creations. Since textile arts are not usually part of school curriculum, the Youth Fiber Art Guild™ gives children a chance to slow down, focus, and experience the beneficial qualities of the art form–including learning a new skill while undertaking a focused project.
What does a Youth Fiber Art Guild™ 6-Month Subscription include?
A $85 subscription is for one child and it includes:
GUIDEBOOK: At the beginning of your membership you will receive a guidebook that contains instructions on how to set up a guild, elect leaders, information on fiber art, games, and more!
6 MONTHLY KITS (plus 2 bonus kits): Explore a new fiber art technique every month! Inside each kit are the materials you need to create an exciting project. All projects come with easy to read instructions (and a link to an instructional video) to help you create an extraordinary piece of artwork. Shipping is included– all kits will arrive in the mail at the beginning of each month. *Note: These extended subscriptions are offered during November and December, for the coming year of membership.
For what ages is the Youth Fiber Art Guild™ appropriate?
Our kits are developed to appeal to learners who are 9 years old and up. Each kit comes with enough materials to customize your project, offering a unique outcome for each child.
Can I buy just one 6-month subscription?
Yes, our subscriptions and limited edition kit packs (when available) are for single purchase or groups. If you are purchasing for a large group, please contact Tracy Krumm at tkrumm@textilecentermn.org or call 612-436-0464.
How do I go about setting up and running a Guild as part of the subscription?
Once you purchase subscriptions for your youth, you will need to pick out when to hold the Guild meetings. We recommend meeting for two hours once a month or as needed.
During the first meeting, your Guild can elect a president and vice president to lead the group. They are in charge of running each meeting, giving out kits, helping friends create, and asking an adult for help when needed. We recommend that if your group has over 10 students, you have an additional adult helper.
What happens at a Guild meeting?
We recommend this layout:
1) Introduction of people – members introduce themselves and share a few fun facts about their interests
2) Show and tell – members share the last kit they completed and if they've created any new artwork
3) Introduction of the project – read through the instructions or watch our videos to make sure everyone understands the project
4) CRAFT TIME!
5) Clean up
When can we register?
Currently, registration happens during the months of November and December for the upcoming year's subscription! Any changes to the subscription period, or special kit-packs, will be announced on our website and in our Textiles on the Town newsletter.
How and when will I get my kits?
Shipping is included. The first kit, plus the 2 extra free kits, will be shipped in December. Then you will receive the next 5 kits in a monthly package until you have all 8 kits. Kits always arrive around the first of the month. Kits are usually shipped via USPS first class mail.
What if I need help understanding the instructions or creating a project?
We are always here to help! Contact Tracy Krumm at tkrumm@textilecentermn.org or call 612-436-0464.
Brought to you, in part, by generous grants from our Youth Fiber Art Guild™ supporters: