July 6 – August 26, 2017 • Joan Mondale Gallery
Opening Reception: Thursday, July 6, 6—8 pm
Artist Gallery Talk:  Friday, July 7, 12-12:45 pm

In Wildfires I have brought together an experiential textile installation of my burning monoliths, digitized hillside flames, celestial fires, and volcanic eruptions to explore our universal consciousness of both the beauty and fear of fire. I have created a living sculptural environment in which visitors can pass around and between fiery giants that glow from within at various stages of ignition and experience glowing surface designs that flicker from ember to flame. —Regina Benson
Exhibition video, shot by the artist, outside Textile Center.
Raging hillside blazes have become an all-too common sight in Regina Benson's adopted Colorado Rocky Mountains. Informed by this environment around her, both in subject and process, Benson takes from her experience of nature to create textile art–on display in this arresting exhibition.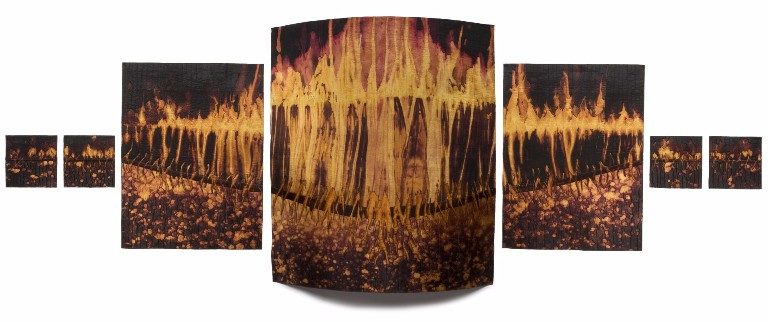 Subsidiary Programs
Saturday, July 29, 11 am-12 pm
Challenging Gravity
Benson will illustrate her spatial aesthetic and how she designs textile art that hangs invisibly in convex and concave shapes. $15 – Textile Center Members Receive 10% off registration
Wednesday, August 16, 5-7 pm
Creating Dimensionally
A hands-on session demonstrating the changed perspectives that are spurred by hanging one's own work on various curves.
$15 – Textile Center Members Receive 10% Off Registration
Bio
Regina Benson is an artist working in the textile medium creating wall hangings, art quilts, and dimensional textile sculptures using her own surface designed fabrics. In the last couple of years, Regina has concentrated on developing wall and ceiling-hung dimensional textile constructions that retain the painterly effects of her flat pieces, but that also incorporate physical allusions to her subjects' aspects by mounting and embedding these works with forms and undulations.
Regina Benson's work emanates from the manipulation of and intentional mark-making on fabric, from silk and cotton to horse-hair and industrial polyesters. Her work frequently starts with a solid piece of black fabric, which she "discharges" (removes the base black dye) with paste or soy wax resists and Shibori techniques; then she overdyes or rusts the fabric surface many more times with natural, disperse and acid dyes to elicit additional images and textures. These initial markings are then oversewn with other textile fragments; she further free-motion stitches the work to its finish with hand-dyed threads and incorporates encaustic processes and burning to complete her vision.
"My pieces are very graphic and intricately detailed at the same time. I want the viewer to feel the overall piece at 10-15 feet; and as the distance gets closer, discover more and more detail of color and texture to enhance first impressions. I am coaxing the viewer to share the physical space with my visions as they are filtered through my artistic re-interpretations. I want the viewer to be enveloped, surrounded, and drawn inside my work."
Regina Benson's work has been shown in galleries and museums in The Hague in the Netherlands, San Diego, Los Angeles, Houston, Chicago and Pittsburgh. Her work has been credited with maintaining artistic integrity, technical innovation, and visual excitement. She continues to press the boundaries of contemporary textile art.
Lithuanian born and primarily self-taught, Regina has lectured on the trends of textile surface design and has served as guest curator for cutting-edge fiber and textile exhibits. Recipient of Quilt National 2007 "Award of Excellence," Regina's work can be seen in selected exhibits and commissioned for private purchase. Select works in this exhibition were featured at the 13th International Textile Triennial in Lodz, Poland, and garnered the Jurors' award for innovation.