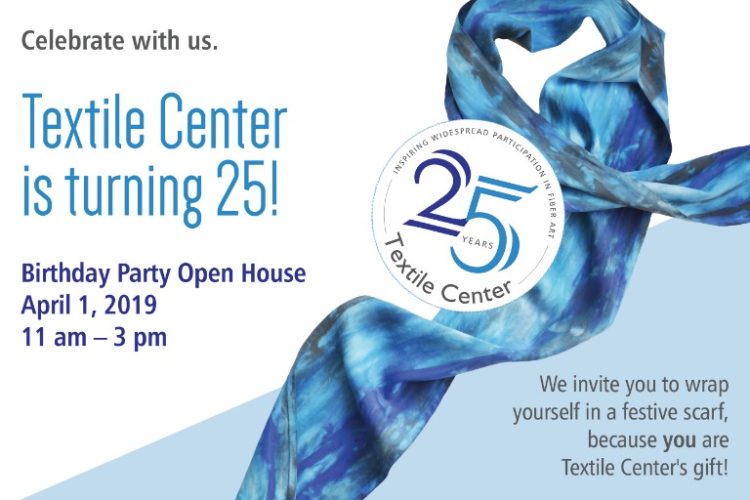 Happy 25th Birthday to us … the Textile Center family!
We invite you to join us Monday, April 1, 2019, for a festive 25th Birthday Open House set for 11 am to 3 pm.
Because YOU are Textile Center's gift, contributing to this organization's phenomenal success over the years, we encourage you to wrap yourself with a festive scarf!
At 12:30 pm we will serve cake (donated by Nothing Bundt Cakes) with champagne and sparkling juice, toasting Textile Center's 25-year legacy.
During the open house, we invite you to:
Check out displays from our affiliated Guilds, as well as birthday cards for the Guild Wall.
Visit our current exhibits Structured (Joan Mondale & Studio Galleries), Alanna Stapleton, Outlooks (Library Gallery), and Wone Vang, Iconic (Community Gallery).
Create a page for our 25th Anniversary Scrapbook in our library – sharing your favorite memories of Textile Center.
Mingle with fellow fiber art lovers who have made Textile Center what it is today.
April 1 also marks the beginning of our 25th fiscal year, and as we celebrate this milestone in the months to come, we welcome photos, postcards, catalogues, or other records that document Textile Center's history. We are starting to build a formal archive for our history, and if you have information to share, you may contact Executive Director Karl Reichert at kreichert@textilecentermn.org, or drop materials off at our library.
We will also have a photo display of our history on monitors during the event, and you can view photos in an online album by clicking here.
There are so many memories to share, including the sweat equity that was put into preparing our current home 18 years ago by many volunteers, including Textile Center's board president at the time, Patty Kuebker Johnson (right).
We also honor the memory of former Second Lady of the United States Joan Mondale, pictured below standing next to her husband, former Vice President Walter Mondale (left), Textile Center's first Executive Director Margaret Miller, and Minnesota Potter Warren McKenzie (husband to the extraordinary fiber artist and Textile Center founder and advocate Nancy McKenzie.)
Textile Center was incorporated as a 501(c)3 nonprofit arts organization in 1994, and it was founded on a bold idea: bringing together fiber artists and guilds.
The cross pollination that has occurred has been remarkable during this past quarter century. Textile Center has grown from an all-volunteer organization into a nationally known arts organization with an annual budget of $1.2 million and a staff of 13 talented arts leaders. We also own a wonderful home on University Avenue SE along the Metro Green Line that has tripled in value since it was purchased in 2001.
Save the date! We are planning a festive gala for Monday, October 21, 2019. Our 25th Anniversary Gala Co-Chairs Linda McShannock and Lisa Steinmann (members of our Textile Center Board of Directors) are working on plans for an exciting event. Stay tuned. Location will be announced soon.
On behalf of our Textile Center Board of Directors and Staff, thank you for supporting our mission "to honor textile traditions, promote excellence and innovation, and inspire widespread participation in fiber art." We look forward to seeing you during our 25th anniversary year!
Where to park?
Good news, we have arranged for overflow parking during the open house at 3300 University Ave. SE (the former Tierney Building next to Tower Hill Park). Click here for map. Because this is an open house, we do expect patrons will come and go throughout the span of our event.
Parking is available in the lot directly behind Textile Center, as well as 2 doors east of our building at 3018 University Ave SE.
There is also street parking the Prospect Park neighborhood, on the side of Textile Center on Arthur Ave. SE, and in front of our building on University Ave. SE.
We also encourage carpooling and mass transit. If you are coming on the Green Line, we're across the street from Prospect Park Station.
Want to wish us a Happy Birthday?
Share a photo of yourself, your group or Guild, or perhaps your favorite piece of fiber art you've made using the hashtag #textilecenter25th and tag us @textilecentermn!