August 26 – September 6, 2018 • Minnesota State Fairgrounds • Selections from A Common Thread 2018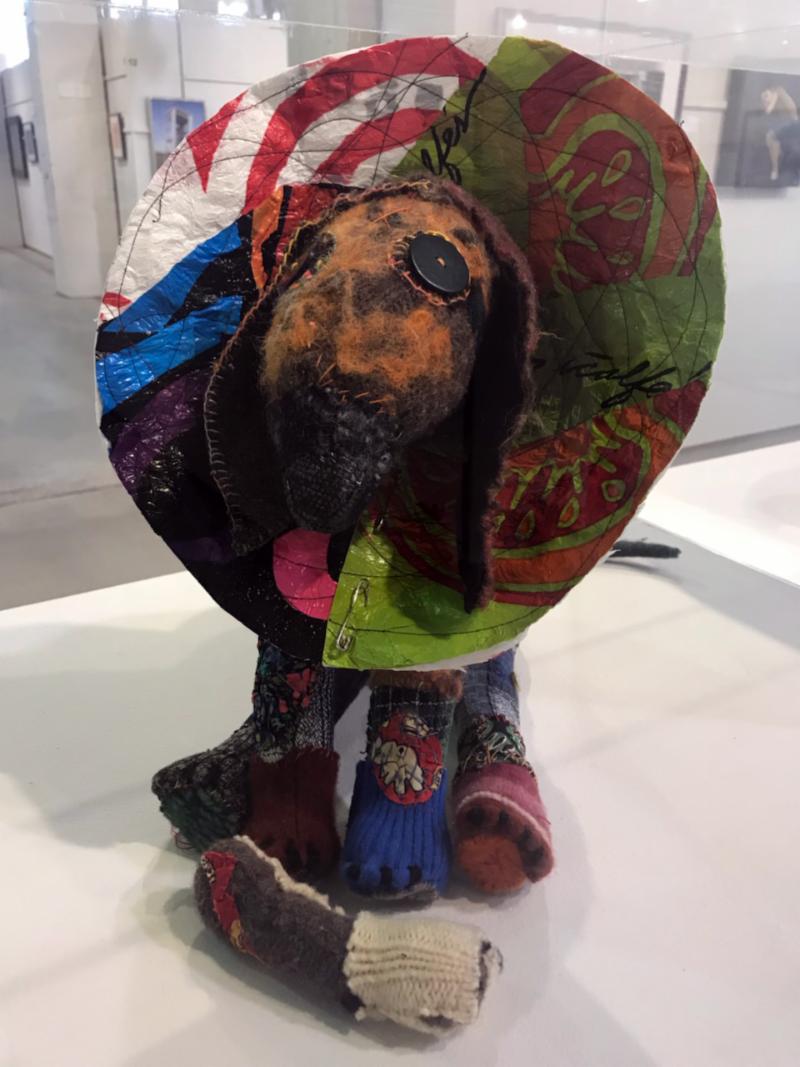 It's always a pleasure to install Textile Center's display in the Creative Arts Building at the State Fair — a terrific collection of work that showcases the incredible skill, talent, and creativity of our members.
After this essential textile stop, be sure to visit the Fine Arts Exhibit, where the presence of textiles and fiber art grow stronger year after year. The far reaches of textile materials and practices ever more apparent in the context of fine arts this year, so keep your eyes out for form and surfaces that embrace textiles — from stitching on photographs, paper and fabric, to crochet with recycled materials, to paintings made of textile scraps, to yarn wrapped sculptures, beadwork, wearables, twigs and sticks, and woven paper in painting and basket form. It's kind of like a treasure hunt, except the treasure is all around us these days.
Congrats goes out to Ray Dog Wears the Cone of Shame by Nancy E. Condon, winner of the Textile Center award for Excellence and Innovation in the Fine Arts Building.
And don't forget to stop by the Fine Arts Building on August 28, from 9 am – 8:30 pm, when member Carolyn Halliday will be participating in the Studio: HERE program.
Textile Center's Creative Activities building exhibit features work selected from our 2018 A Common Thread members show. Pictured is the work of artists (above, from left):
Ella Ramsey
Sandra Brick
Lee Bradford
Marjorie Fedyszyn
Wendie Zekowski
Heather Tinkham
Doroth Mayer
Rose Allen
Among the many of Textile Center's member affiliated guilds who are demonstrating in the Creative Activities Building:
American Sewing Guild
Crochet Twin Cities
Ladyslipper NeedleArts Society
Midwest Machine Knitter Collaborative
Minnesota Knitters Guild
Minnesota Lace Society
Minnesota Quilters
Needleworkers' Guild of Minnesota
Polymer Clay Guild
St. Paul Needleworkers
Upper Midwest Bead Society
Weavers Guild of Minnesota