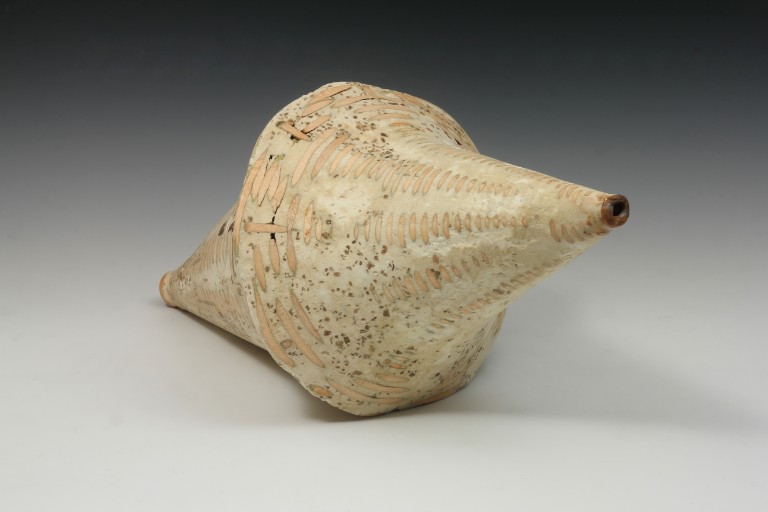 March 18 — May 11, 2019

 • Joan Mondale & Studio Galleries
Artist Reception at Textile Center ~ Thursday, March 28, 5-9 pm
(Image: Gina Telcocci, Equivocator)
Textile Center, in collaboration with the National Council on Education for the Ceramic Arts, brings together a complement of textile and ceramic artists in Structured, an exhibition focusing on textile processes as a starting point for conceptual departure. Structured is a gathering of forces who employ hand-making practices, challenging both maker and viewer in terms of how work is discussed, defined, considered, and categorized in contemporary art.
The exhibition will feature 7 ceramic artists, along with 10 textile artists who work sculpturally, using textile constructions processes and sensibilities. The exhibition, which runs March 18 – May 11, 2019, will bring together a stellar collection of innovative work that reflects the processes of textile and fiber-based studio art practice. Content and inspiration are broad but specific to each artist. The invited artists grapple with everything from the historic to the contemporary, covering a range of content from politics, culture, gender, and identity to commentary on craft practice and the decorative.
The invited artists who identify with the field of ceramics push their work in new ways through exploration of techniques generally championed by fiber and textile artists. In tandem, the works by the textile artists aid in contextualizing these terms of structure and sensibility, connecting the work in a peer-to-peer conversation on the nature of what constitutes a work of fiber art and the far reaching implications textile works have on contemporary art.
Exhibition co-curated by Tracy Krumm, Director for Artistic Advancement, Textile Center, and Casey Whittier, Assistant Professor, Ceramics and Social Practice, Kansas City Art Institute, Kansas City, MO.
EXHIBITING ARTISTS:
Shae Bishop
Jeremy Brooks
Ann Coddington
Allison Craver
Gabrielle Duggan
Jesse Harrod
Janice Jakielski
Phyllis Kudder Sullivan
Sarah Kusa
Joanna Poag
Michael Radyk
Tina Rice
Suzanna Scott
Gina Telcocci
Joy O. Ude
Casey Whittier
Rena Wood
Artist Reception Parking
Textile Center has a parking lot behind our building at 3000 University Ave SE, as well 2 doors east of our building at 3018 University Ave SE. Overflow parking will be available the evening of the artist reception (3/28/19) at 3300 University Ave SE.