Textile Center Member Excursion
International Folk Art Market, Santa Fe, New Mexico
July 11 – July 14, 2019
Excursion Includes:
Round trip air transportation via Delta Airlines to Albuquerque
Roundtrip transfers – Albuquerque to Santa Fe, luggage handling
3 nights El Dorado Hotel & Spa, Santa Fe
Artist procession and musical performance with Pascula Ilabaca
Early Bird Admission to Saturday Market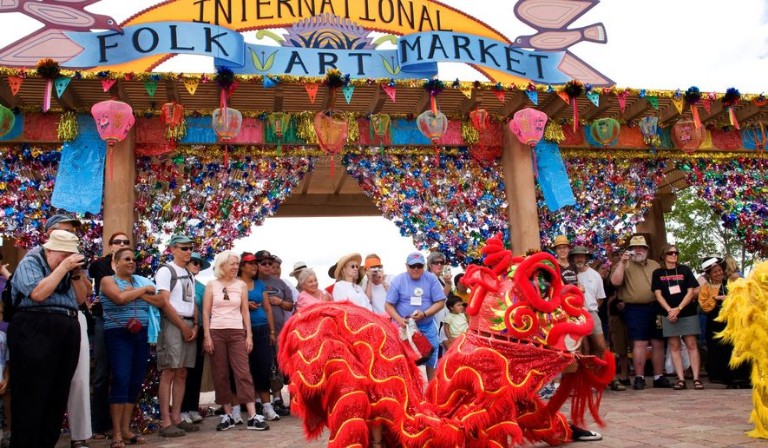 ITINERARY
DAY 1 | July 11, Thursday
Depart MSP-Delta 11:50 am non-stop to Albuquerque (flight time subject to change)
Arrive Albuquerque 1:38 pm
Transfer to Santa Fe; drop off at the El Dorado
Hotel & Spa Evening at leisure.
DAY 2 | July 12, Friday
Day at leisure to explore Santa Fe.
Optional Activity – IFAM Friday Night Opening Party-$225 per person, advance reservations required.
DAY 3 | July 13, Saturday
IFAM Market-Early Bird admission included.
Beat the heat and beat the crowds with early access shopping! 7:30 am – 10:00 am (EB tickets valid all day Saturday.)
Enjoy the sights, sounds, and shopping of the largest and most diverse folk arts festival of its kind in the world!
Complimentary transportation to Museum Hill via Santa Fe Public Shuttles.
Evening at leisure.
DAY 4 | July 14, Sunday
Depart hotel 11:45 am to Albuquerque airport
Depart Albuquerque 2:45 pm, non-stop to Minneapolis (flight time subject to change)
Arrive Minneapolis 6:17 pm
Departure information, air itinerary, travel tips and other information will be provided approximately two weeks prior to departure.
COST PER PERSON: $1,471 double occupancy, $1,646 single, $1,206 triple
Cost includes a $150 tax-deductible contribution to Textile Center.
Deadline for confirmed reservations is April 8.
Space on tour is limited. Reservations are accepted on a first-come first-served basis. You are welcome to become a Textile Center member at any time, to join us on this excursion.
A $350 per person deposit is required with your reservation. Final payment will be due May 3.
Minimum to operate excursion is 20 participants. (Deposit will be refunded if minimum to travel not met.)
Not Included: Meals, items of personal nature, travel insurance. Fuel surcharges are possible and will be added approximately 60 days prior to departure if needed. (We will do everything possible to avoid fuel surcharges.)
Traveler Cancellation Policy: Full refunds will be provided up to 4/8. Cancellations made: 4/9-5/3-$200 per person fee; 5/4-6/7-$600 per person fee; 6/8 to day of departure-no refund
Prices are based on those in effect January 15, 2019 and subject to change due to energy rate changes for transportation services.
RESPONSIBILITY: ALLIED TOURS and Textile Center have no responsibility in whole or in part for any delays, delayed departure or arrival, missed carrier connections, loss, damage, or injury to person or property or mechanical defect, failure, or negligence of any nature whatsoever caused in connection with any accommodations, transportation, or other services or any substitution of hotels or of common carrier equipment beyond their control, with or without notice, or for any additional expenses occasioned there by. Rates are subject to change therein at or before the time of departure. No revisions of the printed itinerary parts included features are anticipated; how- ever, the right is reserved to make any changes, with or without notice, which might become necessary with the mutual understanding that any additional expenses will be paid by the individual passenger. Baggage is at the owner's risk throughout the tour, unless insured. The right is reserved to decline to accept or retain any person as a member of these tours at any time. Other transportation companies concerned are not to be held liable for any act, omission, or event during the time the passengers are on board their conveyances. The passage contract in use, when issued, shall constitute the sole contract between the company (companies) and the passenger and/or purchaser of this trip. Application for reservation on this tour indicates full acceptance of the foregoing conditions.
For reservations or information, contact:
Textile Center
3000 University Ave SE, Minneapolis, MN 55414
612-436-0464