May 23 — July 27, 2019

• Joan Mondale Gallery
Showing the work of the Jerome Fiber Artist Project Grantees 2018/2019
Artist Reception: May 23, 5:30–7 pm, with Jerome artist talks at 6 pm
Janet Dixon
Janet Dixon uses memory and imagination as a basis for the autobiographical abstract maps she creates using breakdown screen-printing and low immersion dyeing.
Heather MacKenzie
In her Queer Encrypted Weavings, Heather MacKenzie is creating an ongoing series of queer heirlooms using contributed text coded into textile structures.
Hear Heather share about practicing hand weaving and experimenting with woven storytelling with KFAI's MinneCulture here!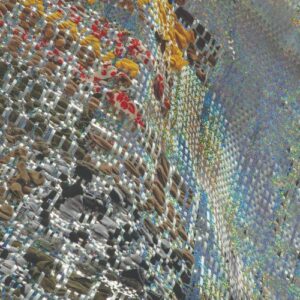 Mary Pow
Mary Pow actively investigates the creative process through her methodical cut-and-sewn color block work where she explores the multitude of viewpoints contained within the world of humanity.

ARTIST RECEPTION PARKING OPTIONS:
Lot directly behind Textile Center at 3000 University Ave SE, Minneapolis, MN 55414
Lot at 3018 University Ave SE, just 2 doors east of Textile Center
Overflow lot at 3300 University Ave SE, just a 5 min walk down University
Street parking along University Ave and neighborhood streets