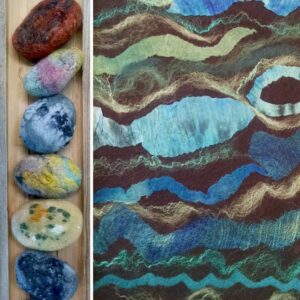 Check out the magnificent creations from the Interlace classes in the Library & Community Galleries!
Interlace is a new program of daytime classes geared toward building new skills for the 55+ age group.  From exploring personal expression through felting to learning the highpoints of wearable art, these students have created works that reflect their unique sensibilities.
Interlace: Felting
November 5 – December 24, 2018 • Library Gallery
Interlace: Art to Wear
November 13 – December 27, 2018 • Community Gallery
The INTERLACE program is generously supported by the Aroha Philanthropies Seeding Vitality Arts Initiative.