Past Garage Sale Attendee Creations
The Textile Center's World's Largest Textile Garage Sale occurs every spring, and the Garage Sale Pop Up occurs every fall. These are two of our favorite times of the year! With a room stacked with treasures including fabric, yarn, patterns, tools, sewing machines, books, notions and more at garage sale prices, the possibilities of what you can create are truly endless! Here are a few creations that past attendees have shared with us.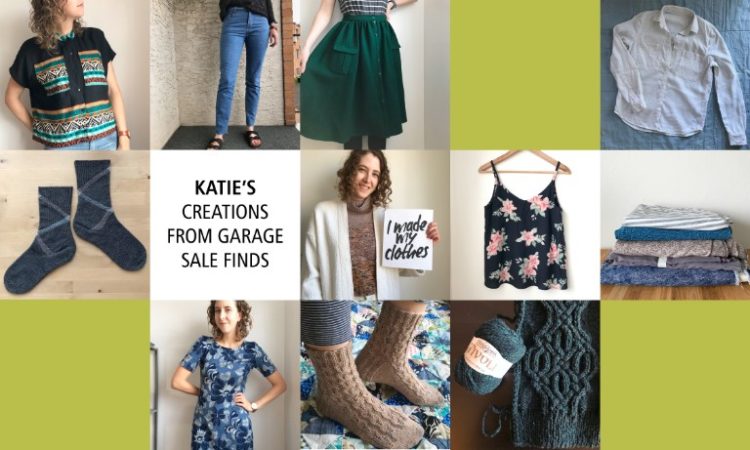 Katie Block is a past Garage Sale attendee, and has made several lovely clothing items from her findings! We asked her a few questions to learn a little bit more about them and her experience at Garage Sale.
How long have you been coming to Textile Center's World's Largest Garage Sale?

My first sale was Spring 2016. I missed the Spring 2018 sale, but I've been to two Pop-Up sales at the Textile Center held in the fall.

What's your favorite part about it?

I love that it's a bit of a treasure hunt – you never know what you're going to find, but there will always be something good and at a great price. I usually leave with a few bags full for around $30.
Can you tell me a little bit about the clothing items you've made from Garage Sale fabric?

Looking through photos of my old projects I've made quite a few! I'll just tell you about some of my favorites. I found a cool blue floral sweater knit and made a shift dress with patch pockets (Mesa by Seamwork magazine). I nabbed a navy rayon with a pink and green floral design and had enough fabric to make a dress and a camisole (Helmi dress by Named Clothing and Ogden cami by True Bias). An emerald green wool crepe became a gathered skirt with button placket and pockets (Zinnia by Colette Patterns).There was a black rayon fabric with an unusual geometric border print and I had fun playing with fabric placement on the pockets and collar of a boxy blouse (Blaire Shirt by Style Arc). I'm also a knitter and have purchased yarn from the sales as well, mostly sock yarn. There are often bags of partial balls of yarn and they're great for colorwork or contrasting heels and toes.
How did you get into sewing?

I was in grad school in Chicago and my mom offered up my grandma's old sewing machine, which I decided to take home with me on a whim. I knew how to sew but hadn't made more than a simple skirt. I found some beginner top sewing patterns and my love of garment sewing grew from there. Grad school is hard work and you can go long stretches feeling like you're not making any progress, so I think I enjoyed sewing because I could see my skills quickly building and have tangible results from my efforts in just a few evenings of work.
What is your most treasured find from the Garage Sale?

I was excited to find some light blue denim at the 2017 sale since it's difficult to find anything other than dark wash denim for sale. I sewed up a pair of Morgan jeans (Closet Case patterns). I wear them at least once a week!

Why should others come to the Garage Sale?

The prices are great, there are some real treasures to be found, and you're supporting Textile Center with your purchases!