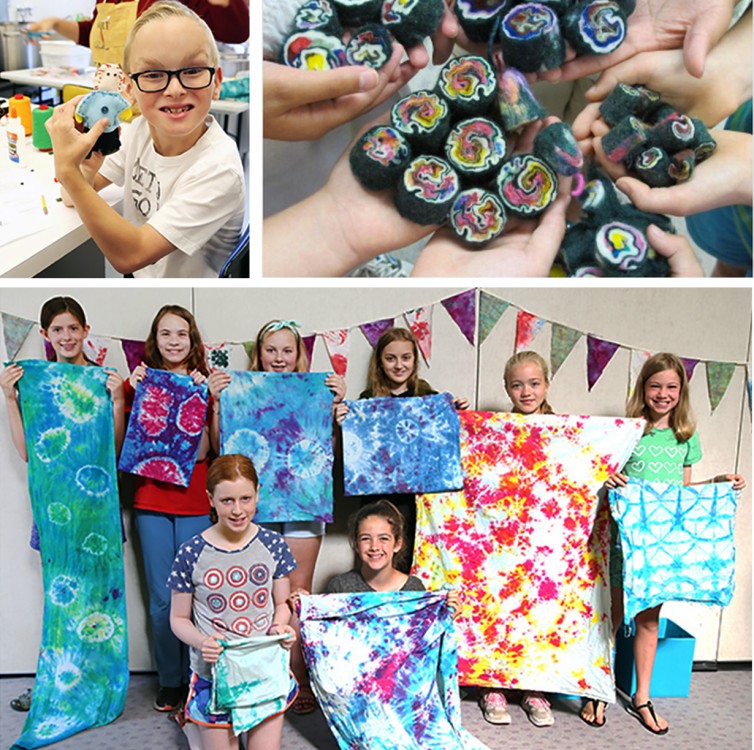 We invite you to bring your student groups to the Textile Center for an immersive fiber art experience. With a teaching artist as your guide, tour our gallery spaces and take part in interactive activities that help you learn more about the art. Students will then create a hands-on project to take home. We are happy to work with you to customize your tour and project to match a curriculum goal or help you earn a "badge" for your group. Costs vary based on the size of the group and activities selected. Please fill out the form below to apply.

Field Trip Categories
Costs:
Wool Geodes, Felted Square, Kumihimo, Weaving, Mad Lab (15 students max)
Group of 8- $192
Group of 15- $226
Group of 30- $305
Indigo Scarves (8 students max)
Group of 8- $260
WOOL GEODES Ages 3+
It's amazing what colorful loose wool, warm water, and soapy suds can create! Learn how to wet felt balls and turn them into mesmerizing wool geodes. String them together and add a keychain to decorate your backpack.
FELTED SQUARES Ages 6+
Wet felting, thought to be the oldest textile technique, is the process of turning fluffy wool roving into felt fabric. Craft a design with their favorite colors and create a vibrant square of fabric perfect as a coaster or a patch!
KUMIHIMO Ages 8+
Kumihimo—braided cord—is a Japanese technique of braiding multiple threads. The braids were once used to lace samauri warrior's armor, over 1,000 years ago! Now Kumihimo is used as an art form that can decorate just about anything.
WEAVING Ages 5+ 
Create a bookmark or bracelet while you learn the basics of weaving! Use a variety of colorful fibers and thread to make a one-of-a-kind woven creation for you, a friend, or family member.
MAD LAB Ages 6+ (15 student max)
He's alive! Design and create your own monster stuffed animal. Draw using dye transfer crayons and transform your drawing into 3D by sewing and stuffing your own creature.
INDIGO SCARVES Ages 13+ (8 students max)
Indigo, originating from Japan, is a plant that creates a blue dye. When cloth is pulled from the dye vat it turns from yellow to blue as it oxidizes, making it also known as the magic dye. Students will learn shibori, a folding technique that creates mesmerizing patterns when dye is applied.
My high school students love to visit Textile Center. They are awed by the scope and creativity of the textile arts both in the gallery and in-process in the Weavers Guild. The classes are practical and fun, offering many students their first opportunity to create with textiles.


— Sue Nissen-Family, Consumer Sciences Teacher