November 1 – December 31, 2019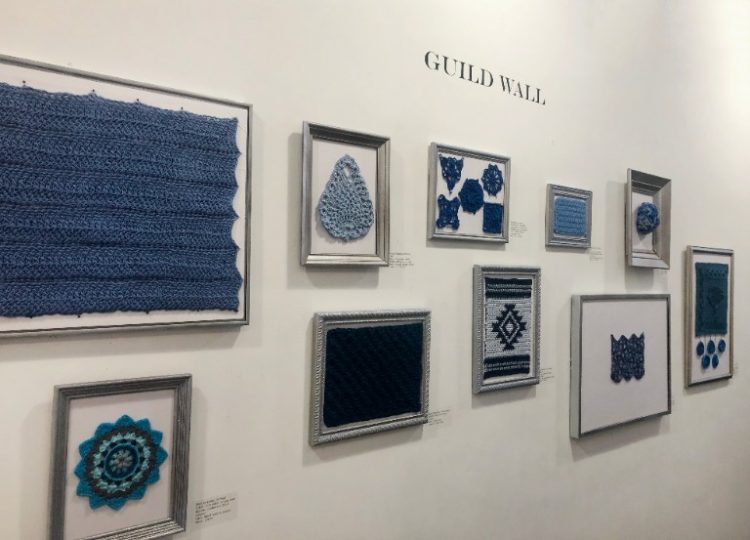 Crochet Twin Cities (CTC), Stitches
The Crochet Twin Cities guild (CTC) was first formed in 2010 by several friends who wanted to get together with other crocheters. As the group grew, they went from meeting in restaurants to yarn shops to a church before joining the Textile Center in 2013. Our guild is a local chapter of the Crochet Guild of America.
The purpose of our guild is to have fun while growing our local crochet community through education, community events and projects, and gathering together to crochet. Contributing to local causes is an important part of who we are and our members have donated hundreds of hats, mittens, and blankets to those in need. Members have taught at local yarn stores; demonstrated techniques at museums, craft fairs, and county/state fairs; and participated in public fiber art installations around the Twin Cities.
Our Guild Wall display is designed to showcase the beauty of crochet through a great variety of stitches, while also demonstrating how different yarns, patterns, and hook sizes can make the same stitch look remarkably different.
CTC meets at the Textile Center on the second Saturday of every month from 10 am – 2 pm.
Learn more about us at: crochettwincities.blogspot.com
Join our Ravelry group: ravelry.com/groups/crochet-twin-cities
Follow us on Facebook: facebook.com/CrochetTwinCities
Follow us on Instagram: crochettwincities