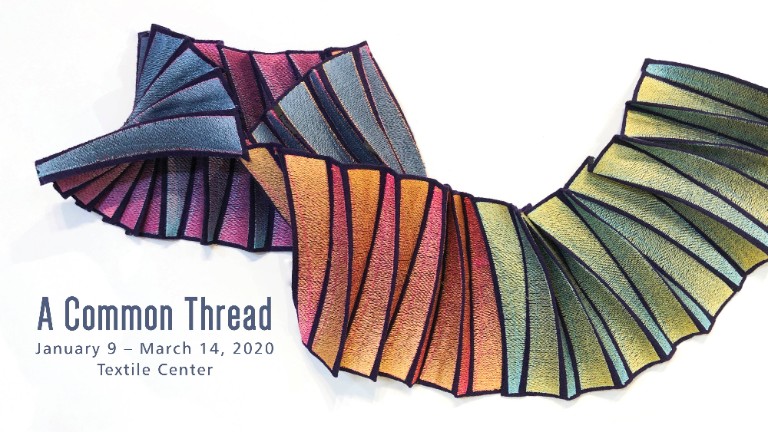 Join us in our Silver Anniversary year for A Common Thread, our annual member exhibition. Always a favorite, this exhibition showcases a fabulous array of fiber art created by Textile Center's members!
This will be the 20th year of A Common Thread, showcasing the breadth and talent of Textile Center members. Each year, over a hundred artworks adorn the walls of Textile Center's galleries in an exhibition that is as diverse in technique as it is prolific in scope. Techniques include stitching, quilting, knitting, crochet, sewing, weaving, dyeing, felting, needlework, hand construction, polymer clay, lacemaking, basketry, beading, sculpture, mixed media, and more. Your $25 entry fee supports the costs of the exhibition.
Important Dates:
Entry Open Date:  Monday, October 7, 2019. There is a $25 fee to enter your submission.
Entry Deadline:  5 pm, Friday, December 6, 2019
Artwork Delivery Time and Dates:  Textile Center business hours, Thursday – Saturday, December 19 – 21, 2019
Loan Period:  December 19, 2019 – March 20, 2020
Exhibition Opens:  Thursday, January 9, 2020
Artist Reception:  5:30 – 7 pm, Thursday, January 9, 2020
Exhibition Run:  Thursday, January 9 – Saturday, March 14, 2020
Pick-up / Return Shipping:  Monday – Wednesday, March 16 – 18, 2020.
Important Artist Information:
Work must be finished at the time of receipt of the application. The piece entered in the application will be the piece that will be exhibited at Textile Center.
Work must not have been made prior to 2018.
Piece submitted must be fiber art-related. The definition of fiber art, according to Fiber Art Now magazine, is "Art that is created using natural or synthetic fibers or techniques that are traditionally thought of as related to fiber. Only one of these –fiber materials or fiber techniques – must be present for work to fall into the broad category known as fiber art." Examples of techniques include weaving, quilting, knitting, sewing, dyeing, felting, needlework, lace making, basketry, beading. Techniques could also include use of materials such as polymer clay and metal.
A high resolution photograph of the piece to be exhibited must accompany the application. File format: JPEG only. File dimensions: No smaller than 1920 pixels on the longest side. File resolution: 96 ppi/dpi (NEW standard web resolution). File size: 5 MB maximum. Most iPhones and smart phones can take photos at this resolution.
Maximum size for 2-dimensional pieces is a total perimeter measurement (around all sides of the piece) of no more than 144 inches, frame included. This must also include the space necessary between segments of diptychs or other multiple piece works.
For 3-dimensional pieces such as sculpture, the maximum size is 36 inches by 36 inches by 36 inches.
Garments and wearable art must be life-sized or smaller.
All hardware must be included. Framed work must have a hanging wire that does not show. All fabric pieces must have a hanging sleeve sewn in with a hanging stick that, assuming it is not featured as an element of the art, does not show beyond the sides of the piece. If a hanging wire is used, it must not extend above the top of the work.
Artists must included a prepaid return shipping label with their piece if it will be returned to the artists via shipping.
For questions, please contact Tracy Krumm, Director for Artistic Advancement, at tkrumm@textilecentermn.org.
Exhibitions are supported in part by funds from the Joan Mondale Gallery Endowment.