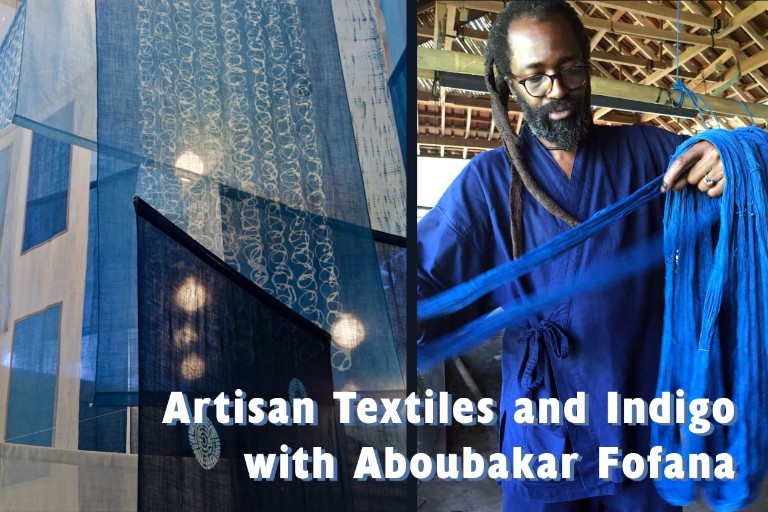 Thursday, Oct 24, 2019 • 5 – 7 pm • Free, open to all • Textile Center
Thank you for joining us in welcoming international artist Aboubakar Fofana, from Mali, to Textile Center for a special pop-up gallery event featuring the indigo-dyed textiles for which he is known and celebrated around the world.
We were thrilled and honored to have Fofana join us to share a few words about his work. Wearable textiles and pillow covers were also available for purchase to benefit his projects.
About Aboubakar Fofana:
Born in Mali and raised in France, Fofana is a multidisciplinary artist and designer whose working mediums include calligraphy, textiles, and natural dyes. He is known for his work in reinvigorating and redefining West African indigo dyeing techniques, and much of his focus is devoted to the preservation and reinterpretation of traditional West African textile and natural dyeing techniques and materials.
Fofana's work stems from a profound spiritual belief that nature is divine and that through respecting this divinity we can understand the immense and sacred universe. His raw materials come from the natural world, and his working practice revolves around the cycles of nature, the themes of birth, decay, and change, and the impermanence of these materials. He sees the conception and realization of this work as a form of spiritual practice that is shared with his audience.
Fofana is currently deeply involved in creating a farm in conjunction with the local community in the district of Siby, Mali, in which the two types of indigenous West African indigo will be the centerpiece for a permaculture model based around local food, medicine, and dye plants. This project hopes to contribute to the rebirth of fermented indigo dyeing in Mali and beyond, and represents his life's greatest project to date.
This special event is made possible by a cooperative effort of the Minneapolis Institute of Art, The University of Minnesota's Consortium for the Study of the Premodern World, and Textile Center.
Contact Tracy Krumm, Director for Artistic Advancement for more information.
tkrumm@textilecentermn.org