Join Us for Weave Fest on Friday, November 23!
Hands-on Demos • Trunk Shows • Prize Drawings • Snacks
On Black/Plaid Friday from 11 am to 4 pm, the Holiday Gallery Shop will be hosting artist trunk shows, demonstrations of their technique, hands-on "try it" opportunities, prize drawings and more! Featured artists are Carol Johnson, Tom Skogstrom and Katharine Pincus.
Save 20% on Table Top Looms, Portable Looms, & Weaving Books
"Test drive" looms before buying! Prizes, Festive Treats, and More!
*Friday, Nov. 23 only; in-stock merchandise only; no other discounts or coupons apply
MEET THE MAKERS - WEAVE FEST
Carol Johnson
Rigid Heddle Loom Demo & Trunk Show
Studio Tupla
Carol creates textiles as functional art, tangible reminders of the beauty that surrounds and connects us. She is influenced by the language of patterns, drawing from her background in mathematics and her Scandinavian heritage, and is inspired by how handweaving challenges and engages both sides of the brain. Seeing the cloth come into existence as the shuttle is passed back and forth never ceases to fascinate her. Carol weaves scarves, towels, runners, and other assorted textiles in her studio near Grand Rapids, Minnesota.
Tom Skogstrom
Rag Rug Trunk Show
Bobbin House Studio
Steve Pauling and Tom Skogström are the artisans of Bobbin House Fiber Arts Studio. Weaving is the major studio activity along with fine shirt-making, sewing, sock machine knitting, quilting, fabric paint, felting and dyeing. Together, they make rugs, table runners, and other products using over-dyed fabrics and the construction of complex cloth, creating one-of-a-kind cotton rag weft that results in exuberantly colorful and visually rich fabric. The nature of the hand-dyed and constructed fabric weft means that each piece is unique.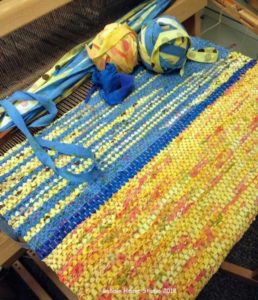 Katharine Pincus
Trunk Show
Presented by Elinor Auge
In 1979, Katharine Pincus opened a small shop in the New England tourist town of Lenox, Massachusetts which she ran until 2016. Katharine was a weaver, working 4 or 5 different looms at a time in her modest Berkshire home. Primarily self-taught, she was inspired by experimentation, creating many, varied samples and taking meticulous notes. Kate had a playful sense of color but was also very adept at creating interesting neutral patterns. Early in her career, Kate's fabric appeared in jackets and coats on the Mary McFadden runway for 6 or 7 seasons.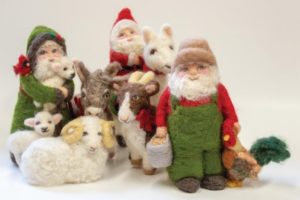 Monday-Thursday, 10 am-7 pm
Friday and Saturday, 10 am-5 pm
Sunday, 12-4 pm
Wednesday, November 21, 10 am-5 pm
Monday, December 24, 11 am-3 pm
Wednesday – Sat., December 26 – January 5, 10 am-5 pm
Regular Hours resume Monday, January 7,  2019
Closed: November 22, December 25 & 31, January 1 & 2