Join Us for Textile Machine Fest This Saturday, December 15!
Hands-on Demos • Trunk Shows • Prize Drawings • Festive Treats
Each Saturday from 11 am to 4 pm, the Holiday Gallery Shop hosts artists in person with trunk shows, demonstrations of their techniques, hands-on "try it" opportunities, prize drawings, and more!
Carole Wurst
Carole's Country Knits,
Rocking Horse Farm
St. Cloud, Minnesota
Machine Knitting Demo & Trunk Show
Carole Wurst began her career as a licensed beautician and cosmetologist, operating her own salon. Carole taught herself hand knitting, crochet, quilting and other types of needle work. In 1978 she began selling knitting machines from her salon, and would often knit while her customers were under the hair dryer. Carole is a frequent demonstrator at knitting machine events across North America, and judges youth competitions.
Nancy Mambi & Mary Holland
Cricut Maker Demo & Trunk Show
Are you intrigued by the Cricut Maker? See it in action, in person! Fiber artists and educators Nancy Mambi and Mary Holland will demonstrate the vast options this tool offers. With advanced rotary and knife blades, Cricut Maker cuts through all types of fabric and paper. Limited edition "I <3 fiber arts" hand-dyed t-shirts — created with the help of the Cricut — available for purchase!
Save 20% on 2019 Calendars!
*Saturday, Dec. 15 only; in-stock merchandise only; no other discounts or coupons apply
Building a Neighborhood Together: Our Place in Prospect Park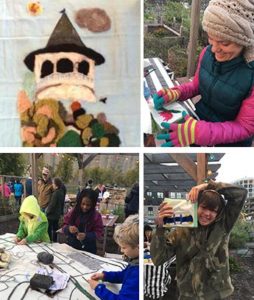 Join us to felt neighborhood landmarks!
Textile Center is proud to be a part of the Prospect Park neighborhood in Minneapolis. Building a Neighborhood Together: Our Place in Prospect Park will be unveiled as part of our 25th Anniversary Celebration in 2019.
Saturday, December 15, 11 am – 2 pm, Fiber & Dye Fest at Textile Center
Saturday, December 22, 11 am – 2 pm, Textile Center
Supported in part by funds from the Prospect Park Co-op Legacy Fund.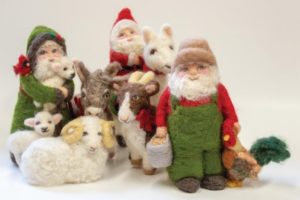 Monday-Thursday, 10 am-7 pm
Friday and Saturday, 10 am-5 pm
Sunday, 12-4 pm
Wednesday, November 21, 10 am-5 pm
Monday, December 24, 11 am-3 pm
Wednesday – Sat., December 26 – January 5, 10 am-5 pm
Regular Hours resume Monday, January 7,  2019
Closed: November 22, December 25 & 31, January 1 & 2