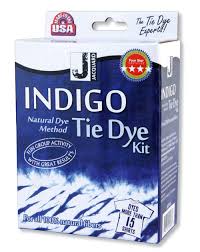 To celebrate Textile Center's 25th year, Textile Center Shop is offering a monthly special to Textile Center members!
In July, save 25% off Indigo Dye Kit from Jacquard — a user-friendly option for one of the oldest dyes used for coloring fabric.
The indigo dye vat made from this kit can keep up to several weeks and dye more than 15 yards or 5 pounds of fabric or 15 shirts. Indigo is for use with natural fabrics and clothing that haven't been treated with any finishes.
Each kit contains: Instruction booklet with dye patterns, historical and cultural overview of indigo, and quick start instructions; 20 grams pre-reduced synthetic indigo; 150 grams reducing agent; 1 pair gloves; rubber bands; 2 wood blocks.
You will only need to supply a 5 gallon bucket w/ lid, pole or stick for stirring, and natural fabrics, clothing, or yarn to dye.
Offer valid July 1-31, 2019, while supplies last.
No additional discounts or coupons apply; no adjustments to prior purchases.
Textile Center memberships are not transferable.
Is your membership up to date? Join or renew here today!