Shop exquisite, hand-made fiber gifts created by 100+ artists!
November 1 – December 24, 2019 • Open Sundays 12 – 4 pm • Featured Artist: Wendy Richardson
At a time when protecting the earth's natural resources, eco systems, climate, and atmosphere for the next generation is top of mind, Textile Center's 2019 Holiday Gallery Shop features earth-friendly fiber gifts that you can feel good about giving. The assortment features an abundance of eco-friendly merchandise, ranging from sustainable, organic, or local fibers; naturally or over-dyed textiles; repurposed materials, upcycled fashions, and even items to help one live a more sustainable life.
The 2019 featured artist, Wendy Richardson, of Brooklyn Park, Minnesota, showcases hand-dyed and embroidered vintage linens. She has made a career of being seduced by color, specializing in overdyed vintage textiles, accessories, apparel, and quilt fabrics. She will be featured among 100+ artists' handcrafted work at this year's Holiday Gallery Shop.
The Shop carries exquisite handmade fiber art, from wearables, to home décor and gifts, along with books, professional art supplies and tools, fiber craft kits, and other unique finds. For the holidays, Textile Center more than triples the Shop's regular footprint, filling the galleries with even more fabulous one-of-a-kind fiber art, just in time for gift giving.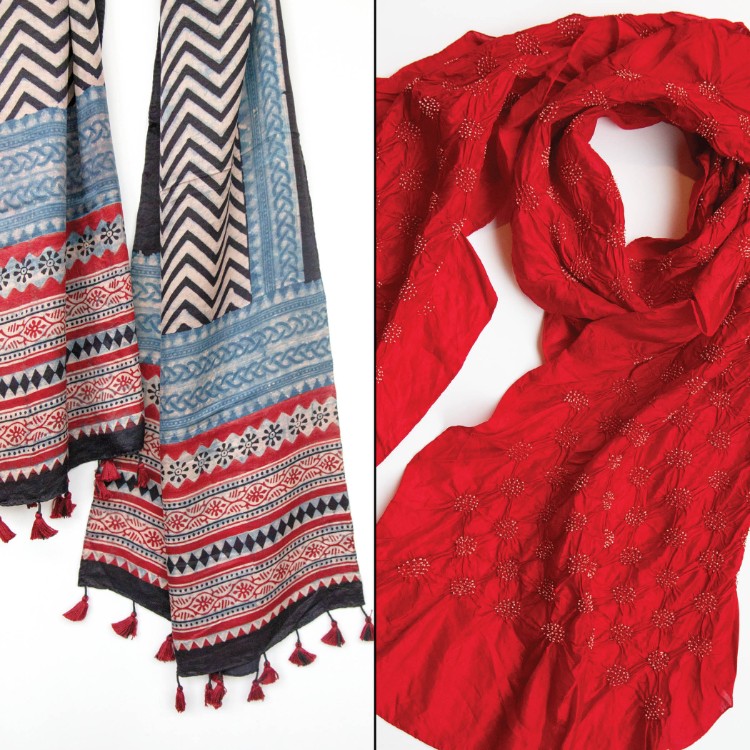 In our Studio Gallery: Shop Indian artisan textiles by Abdul Jabbar Khatri and Sufiyan Khatri from Bhuj, Gujarat, India.
Abdual Jabbar Khatri creates beautiful pieces using Bandhani, a centuries-old technique of micro tie dye that produces exquisite pattern, design and texture on fabric.
Sufiyan Khatri is a 10th generation artisan whose family has been involved in the art of Ajrakh block printing since the 15th century!
Upcoming Meet the Maker Fests
Every Satuday from 11 am – 4 pm  •  Featuring artists with trunk shows, demos of their technique, hands-on "try it" opportunities, prize drawings, and more!
Dec. 7   •   Member Fest; Author Event: Jonah Larson of Hello, Crochet Friends!
AUTHOR EVENT: Meet and greet Jonah, hear him read from his book and answer questions, give crochet a try, and be sure to get your book signed with a photo op! Free & open to the public. Books available for purchase.
Textile Center members receive 20% off Shop items Sat, Dec 7 & Sun, Dec 8. Join or renew today!
Dec. 14   •   Eco Fest