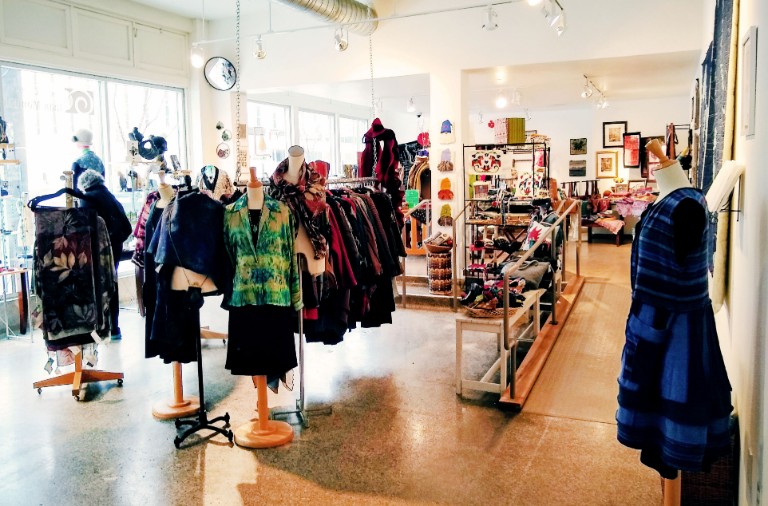 Each November and December, Textile Center more than triples the Shop's regular footprint, expanding to fill the galleries with exquisite fiber art, just in time for gift giving.
Are you a new artist to Textile Center Shop that is  interested in selling your work in our expanded Holiday Gallery Shop this November and December? Apply using the form below!
If you currently sell work in the Textile Center Shop – do not apply.  If you have new or different work for the holiday season, please email Nancy Gross at ngross@textilecentermn.org.
If you sold work in the Textile Center Shop within the past 5 years – do not apply.  Please email Nancy Gross at ngross@textilecentermn.org to indicate your interest.
What artists should apply?
New to Textile Center Shop
Returning after 5 year absence
Work with fibers, textiles or use textile techniques
Make fiber art themselves
18 years of age or older
Non-members and Textile Center members.  Note: Textile Center members save $5 off the Call for Entry fee, and receive a greater consignment percentage (see below). Join or renew here.
What type of fiber art is Textile Center Shop looking for?
Gift items in any fiber form, using any textile/fiber art technique
Eco/Earth friendly – a priority this year!  Recycled, upcycled, sustainable materials, organic fibers, supports an eco-lifestyle, etc.
Gifts for all, and for any use (accessories, apparel, home, pets, etc.)
Seasonal items (such as winter wear)
Holiday themed items (such as ornaments and decor)
Multiples available of submitted items – quantity depends on the item, the price, etc.  Each unit may vary from another (color, design, etc.)
What information will be needed in this application?
Submit up to three different types of items or categories to be juried
Include: item description, materials used, techniques used, and retail selling price(s)
Professional-looking digital image in jpeg format (less than 1 MB in size) – image may show multiple versions of the same item/design
Product samples only by Textile Center request
Short biography/artist statement, 100 words max, written in third person. What do you do, how did you learn, and what do you love about this fiber art?
Jury fee ($25; Textile Center Members, $20) paid on-line via credit card at the completion of the on-line form
What criteria will submissions be juried on?
Supports Textile Center mission: to honor textile traditions, promote excellence and innovation, and inspire widespread participation in fiber art
Eco/Earth-friendly component
General appeal for gift giving
Workmanship
Price
Multiple units available
Overall Shop assortment needs
Note: Image quality will impact jury decisions
If accepted, what are the details in Artist Consignment Agreement?
Artist is paid a percentage of the retail price of artwork sold in November and December (50%; TC members 60%).
Artist is responsible for any shipping costs of artwork to/from Textile Center.
Opportunities are available for accepted artists to participate in trunk shows/demonstrations during November and December.
How does an artist apply and when is the deadline?
Submit the Call for Entry form (below) by the deadline: Thursday, August 29, 2019 at 11:59 pm.
Once you click "submit," you will be directed to a payment page for the Jury Fee ($25; TC Members $20).
You will receive two emails: one containing your payment receipt, and one confirming the submission.
Your application for the Holiday Gallery Shop is not complete until your jury fee is received.
If you do not receive an email receipt, or receive only one email, first check your spam folder. If it is not in your spam folder, your application has not gone through.  Either try again, or contact Textile Center/Nancy Gross.
All applicants will be notified by Friday September 13, 2019.
Accepted artists' initial inventory must be at Textile Center between Wednesday, October 16 – Saturday, October 19, 2019.
Any remaining inventory will be ready for pick up or ship back in early January 2020.
This call for entry is now closed.