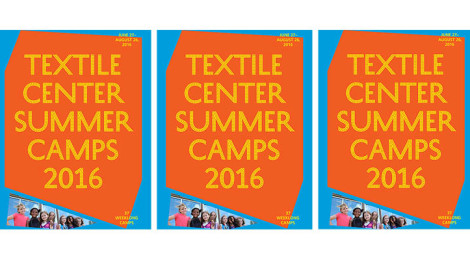 Summer Camps
Weekly Camp Rates
$145 Textile Center Members
$165 Non-Members
$50 Optional Extended Stay
Register your child for 2 camps, take $20 off any additional camps!
Dates and Times
June 26 – August 27, 2016
Monday – Friday (July 4 Holiday Week: Wednesday – Friday)
Morning sessions: 9 am – noon
Afternoon session 1 – 4 pm
Optional extended stay: 8 – 9 am and/or 4-5 pm
5 CENTERS CAMPS
Textile Center
Highpoint Center for Printmaking
IFP MN Center for Media Arts
Minnesota Center for Book Arts
Northern Clay Center
Great Power and Great Responsibility
Ages 9+
June 20–24
9 am–3 pm
Launch into alternative universes with your favorite super hero—or create your own being or extraordinary power. Tell his or her story—from origins to special tools and abilities—in different ways at the 5 Centers for Art in Minneapolis and Saint Paul.
The Truth is Out There
Ages 9+
July 18–22
9 am – 3 pm
Take intergalactic adventures in 5 different materials at the 5 Centers for Art in Minneapolis and St. Paul. Whether you're inspired by constellations and myths or science fiction and fantasy, let our teaching artists awaken the force in you during this all-day camp.
Registration/Fees for 5 Center Camps
$305/$285 Members of any of the five participating organizations.
To register: northernclaycenter.org or 612-339-8007.
OUR TEACHING ARTISTS
Julie Kastigar Boada is an Anishinabe artist, storyteller, puppeteer and arts educator. Over the last 23 years, she has worked with In the Heart of the Beast Puppet & Mask Theatre, L.A. Music Center, Minnesota History Center, Fergus Falls Center for the Arts, as well as independently. A 2014 Ivey Award recipient, Boada has a B.A. in Studio Arts and American Indian Studies and has received grants from the Minnesota State Arts Board and the Jerome Foundation.
Marjorie Fedyszyn is a felting artist known for her large-scale fiber forms. After receiving a B.A. in Theatre Design and Technical Theatre, she worked as a scenic artist in New York and the Twin Cities and was the recipient of a 2013 Jerome Fiber Artist Project Grant.
Melba Granlund has been a life-long fiber artist currently focused on Scandinavian textile folk art. She enjoys sewing and embroidery of folk costumes and textiles, spinning, knitting, weaving, felting, and nalbinding. She has taught at the Minnesota Federation of Weavers, Bay Lake Camp Folkschool, and various other groups within the greater Twin Cities area.
Elizabeth Harrington is a weaver, spinner, dyer, knitter and more. Harrington works at a French immersion school and has instructed numerous courses and camps with Textile Center and the Weavers Guild of Minnesota.
Dyann Judy, a fiber artist for most of her life, is an expert knitter, and is also skilled in crochet, sewing, quilting, dyeing, beading, jewelry making and weaving. With an M.A. in Education from Hamline University, Judy is an elementary school teacher in Minneapolis, where she incorporates the teaching of needle arts.
Sarah Nassif is a Minneapolis based teaching artist with a focus on sewing, screenprinting, and community engagement. Her apparel line Rectangle Designs has been sold from Brooklyn to Seattle and features her original botanical screen-prints. She loves to teach others how she combines her passion for nature with the textile arts. Sarah is a 2016 Jerome Fiber Artists Project Grant recipient.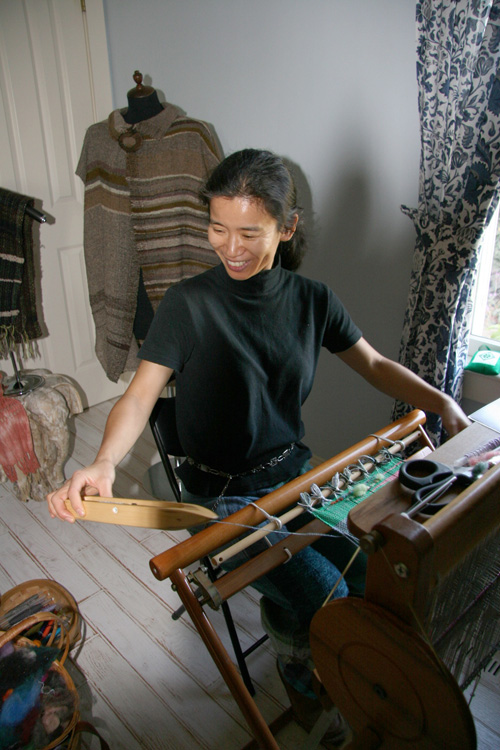 Chiaki O'Brien has been weaving and working with textiles since 1996, specializing in SAORI weaving with experience in Bengala dyeing, needle felting and spinning. A recipient of a 2013 Jerome Fiber Artist Project Grant, Chiaki runs her own studio practice in Chaska, MN called Studio FUN.
Lauren Oland is a fashion designer, teacher and textile artist. With a B.S. in Clothing Design from the University of Minnesota, Lauren runs her own clothing and accessories line while teaching a multitude of youth textile art classes.
FULL LIST OF 2016 SUMMER CAMPS OFFERED
| | | |
| --- | --- | --- |
| Date | Time | Title |
| June 20 | 9am-3pm | Great Power & Great Responsibility |
|   |   |   |
| June 27-July 1 | 9am-12pm | Soft Sculpture |
| June 27-July 1 | 9am-12pm | Fashion Designer |
| June 27-July 1 | 9am-12pm | Memory Quilt |
| June 27-July 1 | 1pm-4pm | Fashion Designer |
| June 27-July 1 | 1pm-4pm | Best Friends Forever |
| | | |
| July 6-8, 3 DAYS | 9am-12pm | Japanese Junction |
| July 6-8, 3 DAYS | 9am-12pm | Guatemalan Worry Dolls |
| July 6-8, 3 DAYS | 1pm-4pm | Printed Moroccan Hammock |
| July 6-8, 3 DAYS | 1pm-4pm | Lavvu Tent |
| | | |
| July 11-15 | 9am-12pm | Knit It |
| July 11-15 | 9am-12pm | Doll Me Up |
| July 11-15 | 1pm-4pm | Modern Doll Making |
| | | |
| July 18 | 9am-3pm | The Truth is Out There |
| July 18-22 | 9am-12pm | Puppetry |
| July 18-22 | 9am-12pm | Doll Me Up |
| July 18-22 | 9am-12pm | Cosplay Fashion |
| July 18-22 | 1pm-4pm | Off to the Circus |
| July 18-22 | 1pm-4pm | Whorl and Weave |
| July 18-22 | 1pm-4pm | Go Graphic |
|   |   |   |
| July 25-29 | 9am-12pm | Knit-a-thon |
| July 25-29 | 9am-12pm | Slumber Party |
| July 25-29 | 1pm-4pm | Off the Hook |
| July 25-29 | 1pm-4pm | Party Animals |
| | | |
| August 1-5 | 9am-12pm | Upcycled Fashion |
| August 1-5 | 9am-12pm | Up, Out, and Away |
| August 1-5 | 1pm-4pm | Purls of Wisdom |
| August 1-5 | 1pm-4pm | Books & Papermaking |
| | | |
| August 8-12 | 9am-12pm | Games on the Go |
| August 8-12 | 9am-12pm | Design It & Quilt It |
| August 8-12 | 1pm-4pm | String Artist |
| August 8-12 | 1pm-4pm | Enchanted forest |
| | | |
| August 15-19 | 9am-12pm | Hint of Print |
| August 15-19 | 9am-12pm | Fleecy Pillow Friend |
| August 15-19 | 1pm-4pm | Pattern Making |
| August 15-19 | 1pm-4pm | Felted Creatures |
| | | |
| August 22-26 | 9am-12pm | Décor Galore |
| August 22-26 | 9am-12pm | Natural Dyer |
| August 22-26 | 1pm-4pm | Time Warp |
| August 22-26 | 1pm-4pm | Tie Dye & Beyond |