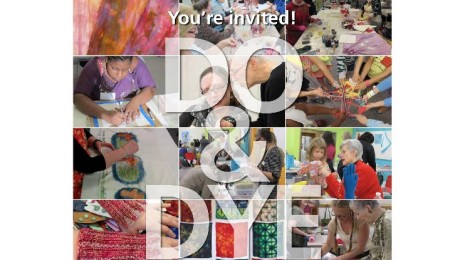 You're invited: Do and Dye 2014
A Make-and-Take Event Benefiting Textile Center
Thursday, November 6, 5 – 8:30 pm
Your ticket includes snacks and a full evening of DIY fun! Go from project to project – over a dozen in all – and come away with art for yourself or to use as gifts. Enter maker-themed raffles ($2 per ticket) for bonus merriment. All proceeds benefit Textile Center's education and exhibition programs.
Learn techniques of glass, luffarslöjd (wire craft), polymer clay, felting, paste paper, quilting, kumihimo, knitting, thermofax screenprinting, painting on leather, peyote beading, and button making.
Make bracelets, ornaments, magnets, bookmarks, screenprints, pins, and more.
Get crafty. Enter our fabulous Make and Partake raffles. Nibble refreshments. Create.
Tickets: Space is limited!  Purchase your advance tickets now.
$55 for Textile Center members
$65 for nonmembers and at the door.
Advanced registration is now closed! Tickets are available for purchase at the door.
Not a member? Join now!
Make and Partake Raffle
Each basket contains a gift certificate for a class with one of our artists, a bottle of wine, and a variety of handmade goodies including silk batik scarves, hand-dyed socks, and earrings. View a complete list of basket contents.
Tickets $2 each / Call and order tickets in advance at 612-436-0464
Basket #1: Beading Party + Wine for Beef
Basket #2: Paste Paper Class with Friends + Wine for Pork
Basket #3: Polymer Clay Class + Wine for Chicken
Basket #4: Sewing Help from the Bobbin Doctor + Wine for Lamb
Basket #5: Dyeing Party + Wine for an Italian Meal
Basket #6: Weavers Guild Class + Wine for Fish
Special Event Overflow Parking:
2828 University Ave SE, just west of Textile Center
-Driving west on University: make a U turn at 27th to go east. Take an immediate right into the lot on the east side of the 2828 University building.
-Driving east on University: turn right into the lot at 2828 University.
Hospitality Sponsor
Make and Take Projects
Midwest Machine Knitters Collaborative
Wearable Arts Midwest
Christy Binoniemi
Roxanne Hardy
Mary Holland
Nancy Mambi
Susan Stein
Special thanks to:
Designer Danae Rem for invitation and design support
All proceeds benefit Textile Center, a dynamic space where people come together to create, learn, share, explore, and be inspired by fiber art. Last year's Do & Dye ticket sales provided 15% of the support needed for our adult education program–nearly 100 diverse textile classes.